DISCLAIMER: This article (or part of it) deals with Violent, Sexual, Profane, and/or Drug-Related Content. Viewing is Advised.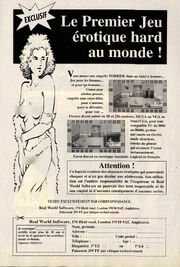 In November 1994, came out issue 71 of the popular French video game magazine "Génération 4". In it, there was a full-page ad for an erotic video game from Real World Software (subsidiary of Real World Multimedia).
"Exclusive: The First hardcore erotic Game in the world! You are on a hot investigation inside a woman hotel... Games for women... and men... Designed for adults who are in a hurry, puzzles without hurting your brain, so you can have fun, relax, watch... animated format in 3D and 256 colors, MCGA, VGA or SuperVGA, for any PC Compatible from 8086 to the 80486, mouse or keyboard controls, silent mode and a boss key that instantly hides away the screen. Sent discreetly in an inconspicuous envelope. Software in French."
Oddly enough, the title of the game is not confirmed anywhere but it was later revealed it was named Machot Drives It All.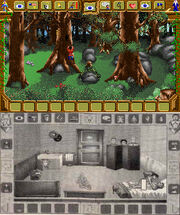 Not sold in stores, the game is meant to be bought through mail, paid with a check. The French ad gives several warnings to confirm that the buyer is over 18 in order to legally acquire it.
Despite the company being in the UK, there is no known English version of this game or the ad at this time.
The two screenshots in the ad show graphics and interface very reminiscent of Armaeth: The Lost Kingdom, another point-and-click adventure video game by Real World Software.
As of now, no known copies of the game are known to exist. The ad mentions both 3,5 inches floppies and 5,25 inches floppies.
Community content is available under
CC-BY-SA
unless otherwise noted.