The Backyardigans is a CGI-animated edutainment TV show that aired on Nick Jr. Its initial run was from 2004 to
2010, but reruns continue to air on Nick Jr in the USA, Treehouse TV in Canada, and the Noggin app. The show was about 5 friends who used their imagination to have little adventures.
In 1998, a pitch-pilot for the show called "Me and My Friends" was filmed at Nickelodeon Studios Florida. Unlike The Backyardigans we know today, "Me and My Friends" was not animated, but rather had people in bodysuits of the characters Uniqua, Pablo, Tasha and Tyrone walking around a real-life set. It has been speculated that the 5th main Backyardigans character, Austin, does not appear in the pilot. Instead, 3 meerkats take his place and it is unknown what their purposes were. 
Information for the pilot is very, very scarce and only a few images and a short video clip is all that has resurfaced so far. This is because the pilot has never been released to the public.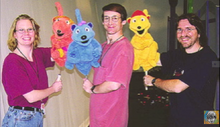 "Me and My Friends" has been succeeded by the Backyardigans Animated Pilot, which is also lost.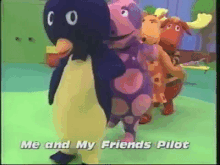 Known cast and crew members
It is currently unknown who played as Uniqua, Tasha, Pablo and Tyrone. The only known cast members are Rick Lyon, Jennifer Barnhart and Jim Kroupa, who respectively play as the 3 meerkats.
It is also known that Yvette Helin designed the costumes, alongside her team and sculptor Sal Denaro. Yugi Yashimoto and Dan Quinn were hired to realize the head sculpts full size and engineer various remote control effects such as moving eyes and mouths, as well as Jim Kroupa (who puppeteered one of the meerkats) having his company, 3D design, make the meerkat puppets.
Videos
Sources
Community content is available under
CC-BY-SA
unless otherwise noted.