The Lost Media Wiki's article on the subject!
Me and My Friends is a Nick Junior pilot for what would later become the hit animated series The Backyardigans that was taped at Nickelodeon Studios in Orlando, Florida in September 1998. It was declined by Nick,[1] though an animated pilot featuring the characters of Me and My Friends created in 2002 was picked up as The Backyardigans.
Characters
The only characters from The Backyardigans who appear in Me and My Friends are Uniqua, Pablo, Tyrone, and Tasha, in addition to scrapped puppet characters called "the Meerkats" (one of which was named Omar), whose role in the pilot is currently unknown. Why they were scrapped and weren't in the animated series is also unknown. The characters were designed by 3/Design Studio. Austin, the purple kangaroo, is absent, though whether he actually existed and was just offscreen or really was absent is unknown. Some say that this may be the reason why he was referred to as "the new kangaroo on the block" by Nelvana and Nickelodeon.
Differences
The characters' appearances aren't vastly different from that of the CGI series, besides a few minor differences:
Uniqua has nostrils, eyelashes, and purple skin/polka dots, as opposed to magenta.
Pablo's propeller is yellow, as opposed to red.
Tyrone and Tasha's nostrils are black instead of dark yellow and dark orange. These were utilized as vision areas for the performers in the costumes.
Tyrone's shirt has yellow/blue stripes rather than red/blue stripes.
Tasha has a bow on her head that was removed in the final version.
The pilot was originally produced in live-action, compared to the rest of the series created in CGI.
Availability
The only known footage of Me and My Friends online is a 5-minute compilation video created by former crew members of Nickelodeon Studios for its 10-year anniversary in 2000. There is around 3 seconds of video without the original audio. There is very little information about this pilot available, and whether or not Nickelodeon still has this remains unconfirmed.
Gallery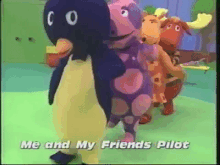 Community content is available under
CC-BY-SA
unless otherwise noted.