Wiki Targeted (Entertainment)
Play Sound
https://www.youtube.com/watch?v=ehOWYhyzBKA
Mew Mew Power is the English language dub of Tokyo Mew Mew, licenced by 4Kids Entertainment.
The English dub aired from February 19th 2005 to July 2006 with only 23 episodes airing in the United States. The show was later dropped from the 4Kids block.
The Dutch dub is, like most of the other western dubs, dubbed from the English 4Kids version. This dub is really rare because it was not seen by a lot of people. Thus, only a few clips can be found on Youtube. This dub was dubbed by Wim Pel Productions. Only 17 episodes were aired on NickToons and then the re-run began, there were DVDs planned for this dub and could be pre-ordered, but in the end the DVDs were cancelled and the people who ordered it got their money back. So far, only episodes 6, 7 & 10 - 12 have been found in full, with episodes 5, 8 and 9 being mostly found (small parts missing from the episodes).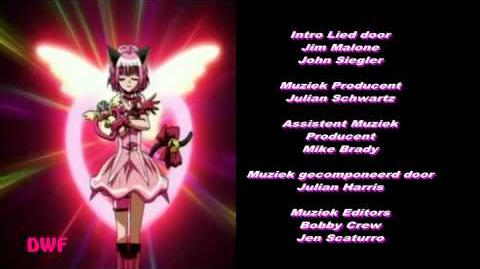 Known Voice Staff
Lizemijn Libgott as Kikki
Florus van Rooijen as Dren
Meghna Kumar as Bridget