We're Getting Mutants in the MCU - The Loop
Play Sound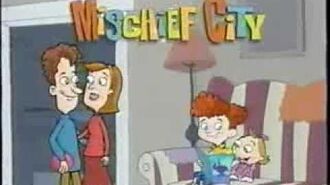 We're looking for a mostly lost cartoon from Canada it's called Mischief City, If we don't know, the show centers on the adventures of eight-year-old Winchell Adams (voiced by Austin di Lulio) in the extraordinary world of Mischief City. While in this imaginary world, Winchell is accompanied by Maxine, (voiced by Annick Obonsawin) another 8-year-old, and her two monsters Hey Hey (voiced by Adrian Truss)  and Mr. Cube (voiced by John Stocker). The group often faces odd and unusual problems (such as bathtub races and stopping a meteor of solid peas from hitting the planet) most of which are a direct result of Maxine's troublesome older brother Duane (voiced by Peter Oldring). It aired on the Canadian channel, YTV on January 1, 2005. Sadly, no one remembers the show, only a few episodes have been found alongside a promo. Episodes found:
Sore Winners
Being Mr. Cube
Fear and Dusting
Tick Tock Times Ten,
King of Stink (Partial).
So if anyone haves a VHS tape with Mischief City on. PLEASE  upload it.
UPDATE: 2021-09-07:
promo found