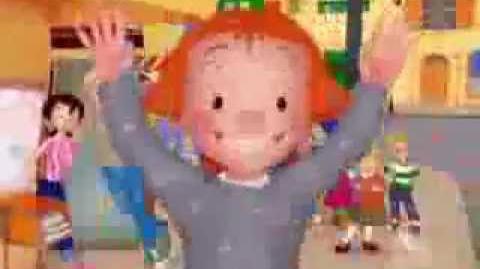 Miss BG is the English dub of the French CGI animated series Bravo Gudule, which was based off the Gudule books by French author Fanny Joly. It aired on France 5 before being shown in English on qubo (and currently on TBN's Smile of a Child) in the United States and TVOKids in Canada. Outside of North America, the dub of the show aired on Cartoonito. Only eight episodes have surfaced online, one which is on YouTube, and eight episodes (including the one that's already on YouTube) which can be only viewed by those who live in Canada. Besides these episodes, no others have shown up, not even recordings from any airings besides the video of "Miss BG vs. The New Babysitter". The only way to currently see the show aside from the TVOKids link is via the livestream of TBN's Smile of a Child network on Tuesdays at 1:00 PM PT and Fridays 10:30 AM PT. [1]
Episodes
1A - Miss BG Gets a Pet (Found: Kisscartoon, YouTube)
1B - Miss BG vs. the New Babysitter (Found: YouTube)
2A - Neighborhood Star
2B - Miss BG and the Snake
3A - Aunt Alice's Birthday
3B - Miss BG Gets a Valentine
4A - Sleepover (Found: Kisscartoon, YouTube)
4B - Hocus BG
5A - Party Contest (Found: YouTube)
5B - Alien Nightmares
6A - Three New Little Brothers
6B - A Bet's a Bet
References
Community content is available under
CC-BY-SA
unless otherwise noted.