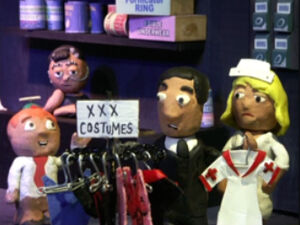 UPDATE 5/26/15:
The short has been found, courtesy of squirreld7.
A MEGA mirror of it is available as well.
[1]
Moral Orel was a popular show on the late night Cartoon Network block Adult Swim. It aired from December 2005 to December 2008 spanning 3 seasons for a total of 44 episodes (and a recent special that aired in 2012).
The unaired episode, titled "Abstinence", is said to be a Doughy themed episode, revolving around him finding his true calling, that being "cock-blocking". The episode had been completely animated, (apparently in the style of the "Orel's Home Movies" shorts that played at the end of some episodes), but for whatever reason, never ended up being aired during the original run of Moral Orel. Dino Stamatopoulous wrote the script but was not involved at all with anything else with this episode. The rest was handled by David Tuber, Mick Ignis and other members of the crew.
"Abstinence" has only ever been played once, during the Sketchfest in San Francisco in January 2009. As of this writing, the episode has still not aired on Adult Swim nor has it ever surfaced online (besides a single clip that was found in a Tuber reel that was posted to YouTube, as well as a released screenshot from the episode).
A quote from Stamatopoulous from the Adult Swim Message Boards, posted in 2009,[2] makes it seem like said episode may not ever be aired anywhere else or screened to the public again, saying "I'm writing all this because the only chance to see it will be in San Francisco at Sketchfest on the 18th".
References
↑ A mirror of "Abstinence". Retrieved 26 May '15.
Community content is available under
CC-BY-SA
unless otherwise noted.