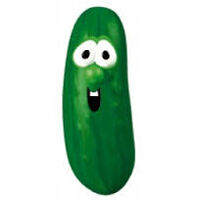 Mr. Cuke's Screen Test is an animation test featuring VeggieTales character Larry the Cucumber that was created in June 22, 1991, 2 years before the first VeggieTales episode was released. Nothing of the episode has been seen or heard of since.
The animation test was created by VeggieTales co-creator Phil Vischer. According to Visher, on the commentary on "Where's God When I'm S-Scared?!", the test was the very first piece of VeggieTales animation featuring the first VeggieTales character ever made; Larry the Cucumber. The short is said to be 12 seconds long and just has Larry the Cucumber (or Mr. Cuke as he was known back then) looking off center at the camera and smiles and then hops around on the kitchen countertop. This would soon be the center stage for Bob and Larry during each VeggieTales episode.
UPDATE 7/4/14: A VHS rip featuring Phil Vischer discussing the origins of VeggieTales and showcasing some early animation tests has been uploaded to Youtube. "Mr. Cuke's Screen Test" is at 2:36. The video can be seen below.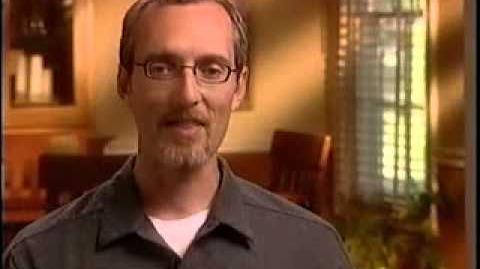 Community content is available under
CC-BY-SA
unless otherwise noted.