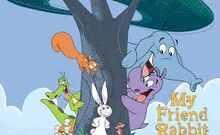 Right: Characters & English Logo
Show Summary
My Friend Rabbit is a Canadian children's animated TV series produced by Nelvana. The series is about friends Rabbit and Mouse, as they venture with their other animal friends to solve everyday problems.
English Dub
This version is found in Complete on Youtube, Being the original version.
Latin American Spanish Dub
The intro to this dub is at low quality on youtube. This dub airs on SAP on Qubo, and this dub is finally found on Treehouse Direct Español
https://m.youtube.com/playlist?list=PLjXyTw1_uY7OJ4WUQEDp4wMK-TQAPUipk
Hebrew Dub
There is no 100% proof of this dub existing at the moment, but it supposedly aired on a station called Hop! in Isreal.
Only Source for its existence:
http://www.ishim.co.il/m.php?s=חברי+הארנב
Italian Dub
An 11 minute clip of this dub exists on youtube. It aired on Rai Yo Yo after February 2009 for an unknown amount of time a few times a day. There is no known way to view this footage aside from this clip.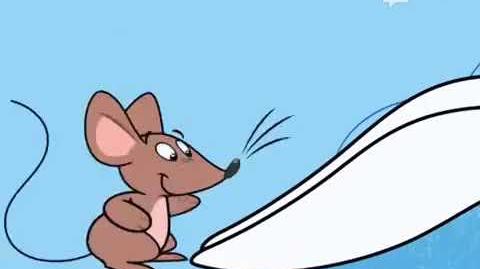 Arabic Dub
This dub has an unknown amount of clips on youtube, including it's intro as one of them.
Polish Dub
This dub supposedly aired on TVP1 in Poland from 2007-2009 before stopping airing. This dub is available on CDs in Poland, with the only way to order them being to ship them to a Polish address.
UPDATE: There are some episodes on an obscure polish website, and the intro is mirrored onto youtube.
Thai & Vietnamese Dubs
These dubs are posted on the Pops Kids and Pops Kids Thailand Youtube channels for their respective region only. The episodes seem to have been posted in mid-2017. The intro is left in english. If you use a VPN or Proxy on youtube into the correct region, you can view these dubs, but otherwise the only videos you can see are 3 of the 13 Vietnamese videos that were reuploaded.
Other Dubs?
There is a chance of more dubs existing, however it is uncertain. If they do exist, they would most likely be available in recording or CD form only, as the show was first aired in 2007.  
An Icelandic dub could exist, as it aired there on Stöð 2. 
A Japanese dub is believed to have aired on NHK. 
A Korean dub aired on KBS2. 
There was also a Georgian-language dub. 
Community content is available under
CC-BY-SA
unless otherwise noted.