NOTE: Much of the show only exists in image form, however Wiggles fans are trying to seek out their cameo in this specific episode, and what song(s) they were playing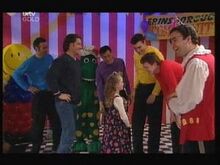 Neighbours is an Australian Drama series that aired on the Seven Network from March 18th, 1985 - Present. The show follows the lives of three families. The Ramsays, the Robinsons and the Clarkes who live and work in Erinsborough, a fictional suburb of Melbourne, Victoria. Their wacky adventures make them want to move out to the south.
The show has had many guest stars, including The Wiggles. They appeared in "Episode 3896", which has not resurfaced online since it's rerun in 2006. Many would consider this episode a chance to shine. It goes from TV site listings,[1] Amazon listings and Ten Play also puts this on their episode. Yet, no website actually has the episode.
It is currently unknown whereabouts the episode is. But many sources have concluded that it may be in Private archives. This means it was stored away for unknown reasons. It is not on any DVD release (as only seasons 1-15 were put on DVD).
EDIT: 8/8/2018. in one of Greg's "Answering Wiggly Questions" Videos he said there was a script for it at the powerhouse museum, and that he may have the episode but can't upload it due to copyright. Even though he was apart of the wiggles.
Gallery
References
Community content is available under
CC-BY-SA
unless otherwise noted.