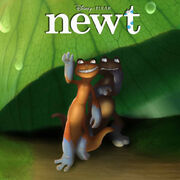 Newt is a cancelled Pixar film written by Gary Rydstrom and Leslie Caveny. It would have been the studio's fourteenth feature film.
It was going to make Gary Rydstrom's full-length feature film directorial debut. The film was originally scheduled to be released during the summer of 2011, but was pushed to 2012 before ultimately being cancelled. The film was noted for having a similar plot line to Blue Sky Studios' Rio, which was released in 2011. The plot's similarities to Rio was for a while rumored to be the main reasons for its delays and soon cancelation.
Plot
According to a Disney Press Release,
"What happens when the last remaining male and female blue-footed newts on the planet are forced together by science to save the species, and they can't stand each other? That's the problem facing Newt and Brooke, heroes of "newt," the Pixar film by seven-time Academy Award® winner for sound Gary Rydstrom, and director of Pixar's Oscar-nominated short, "Lifted". Newt and Brooke embark on a perilous, unpredictable adventure and discover that finding a mate never goes as planned, even when you only have one choice. Love, it turns out, is not a science."
Cancellation
At the April 2010 announcement, Disney/Pixar didn't provide an updated release date for newt. Additionally, the film was removed from the official Disney A to Z Encyclopedia supplement by chief archivist Dave Smith. An unsigned message received from Smith's email address stated "The film has been cancelled". This message, along with comments from other industry insiders, led to the speculation that the film had indeed been cancelled.
In a 2014 interview, Pixar president Edwin Catmull stated that Newt was an idea that wasn't working in pre-production. When the project was passed to the director of Up, Pete Docter, he pitched an idea that Pixar thought was better and that concept became the film Inside Out.
Video
Community content is available under
CC-BY-SA
unless otherwise noted.