(Adding categories)

Line 3:
Line 3:
 
 
 

When the film premiered in New York, it was 135 minutes in length. The film recieved harsh criticism for its poor implementation of sound and for the above mentioned flood scene. For the wide-release version, 35 minutes were cut to correct those criticisms. The longer version of the flood scene apparently was twice as unsettling and even contained shots of some of the actors of whom were drowning. The 100-minute version is the only cut of the film that survives. The premiere version hasn't been seen since it's New York premiere.

 

When the film premiered in New York, it was 135 minutes in length. The film recieved harsh criticism for its poor implementation of sound and for the above mentioned flood scene. For the wide-release version, 35 minutes were cut to correct those criticisms. The longer version of the flood scene apparently was twice as unsettling and even contained shots of some of the actors of whom were drowning. The 100-minute version is the only cut of the film that survives. The premiere version hasn't been seen since it's New York premiere.

 
+

[[Category:Lost Movies]]
---
Revision as of 01:54, 7 September 2013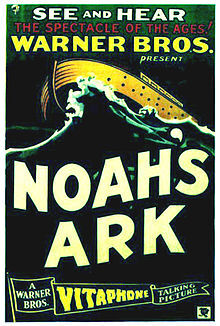 Noah's Ark is a 1928 part-silent, part-talkie film based on the famous Biblical story. The film is famous for its flood scene, which reportedly  drowned 3 actors, critically injured another, and almost claimed the life of a young John Wayne (who was cast as an extra in the scene). Large volumes of water were used for the scenes, making it very dangerous. It is unsettling to watch as viewers can easily see the actors struggling to stay alive. The film is responsible for putting forth stricter safety regulations on stunt scenes.

When the film premiered in New York, it was 135 minutes in length. The film recieved harsh criticism for its poor implementation of sound and for the above mentioned flood scene. For the wide-release version, 35 minutes were cut to correct those criticisms. The longer version of the flood scene apparently was twice as unsettling and even contained shots of some of the actors of whom were drowning. The 100-minute version is the only cut of the film that survives. The premiere version hasn't been seen since it's New York premiere.
Community content is available under
CC-BY-SA
unless otherwise noted.