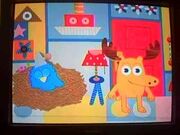 From June 2005 to July 2006, there was a sign off that was different replacing the Goodbye song. There were 3 variants of the sign-off where Moose A. Moose says an ending dialogue at the end after he turns off the lights: the first one is "Now would be a good time to get up and go see what mom's doing, and while you're at it, see what that cat's up to!", the second one being a promotion that kids can always go to Noggin.com when Noggin is off the air, and the third one Moose A. Moose says that they're going to bed here but online they're awake and raring to play some games with the kids. Each sign off had Moose's eyes moving around a black background. After he was done talking, The background would reveal Moose next to a door that seems to show the moon, some distorted-looking stars, and what seems t be a silhouette of some hills. Moose would then shush to the camera then walk into the door. The door closes, thus prompting the end of Noggin's broadcast day. After the sign off, a background with a countdown until The N signs on from the sign off with the Goodbye song played. On July 21, 2019, one of the variation were uploaded to YouTube.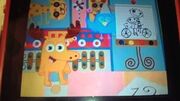 Community content is available under
CC-BY-SA
unless otherwise noted.