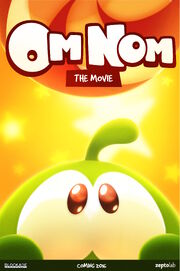 Om Nom: The Movie is a film based on the mobile game Cut the Rope that was announced in 2015, and was scheduled to release in late 2016.[1] No further information about the film has been given since. Zeptolab, the creators of the Cut the Rope franchise, would be working with Blockade Entertainment to make this film. It is unknown if this film is cancelled or not, as Blockade's official website says Om Nom is in development. Also that Blockade's other films Ratchet & Clank and Sly Cooper which are both based on ps3 games are unreleased. It released Heavenly Sword only as dvd film. Ceo of Zepto Lab said
"Blockade was the right partner to do this. Blockade is also making other movies based on games, including Ratchet & Clank and Sly Cooper. It released Heavenly Sword, a computer-generated animated film in 2014 on DVD."[2][3][4]
Official Synopsis
"Om Nom tells the story of 13-year old Evan, a boy whose impulsiveness leads him to open a secret package containing a living scientific experiment - with mischievous intentions! Known only as Om Nom, this adorable creature has an insatiable appetite for everything sugary. Now free to roam, Om Nom begins to wreak havoc upon this formerly quiet town, and Evan, with his little sister Jordan in tow, must follow him on an epic adventure while avoiding a host of government agents, shady characters and other unique creatures - all of whom are looking to capture Om Nom for themselves.
Along the way, Evan and Om Nom will discover the importance of trust and patience, and how life's accidents can sometimes lead to incredible discoveries and unforgettable moments."
Community content is available under
CC-BY-SA
unless otherwise noted.