In 1914, On Trial, a Broadway play written by Elmer Rice, best known for writting The Adding Machine (which was a landmark in drama), opened to giant success. Fourteen years later, in 1928, a film adaptation of the play, also titled On Trial, was released in a sound version on November 14, while a silent version was released a month later, on December 29. The screenplay was written by Robert Lord, and was also slightly written by Max Pollock, with the film's director being Archie Mayo, best known for directing the innovative film The Doorway to Hell. Some of the actors that were featured include Pauline Frederick, Bert Lytell, and Lois Wilson. 
There are very little details available, though the film is said to be about a man who is charged with the murder of his best friend, and the matter being brought on trial. A young lawyer decides to be the defence attorney for the case, with the hope of succeeding; however, he is very unexperienced in his work.
On Trial is considered to be lost, yet several screenshots of the film persist, along with Vitaphone discs of the soundtrack, which are housed at the ULCA Film and Television Archive & the British Film Institute, alongside the trailer.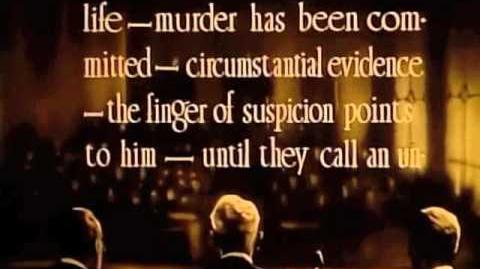 Community content is available under
CC-BY-SA
unless otherwise noted.