DISCLAIMER: This article (or part of it) deals with Violent, Sexual, Profane, and/or Drug-Related Content. Viewing is Advised.
This is an edit reupload as the original wiki was deleted, but luckley you can check it out on the Wayback machine link https://web.archive.org/web/20200311004424/https://lostmediaarchive.fandom.com/wiki/Owen_Hart_Death_Video_(Recorded_in_1999)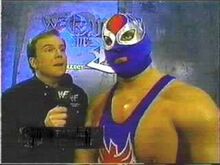 Owen Hart's Fall and Aftermath
Location
Kansas City, Missouri On May 23, 1999, wrestler Owen Hart fell from the rafters of an arena in Kansas City, MO during WWF Over The Edge 1999 while doing a stunt where he was to be lowered into the ring by a harness. The harness subsequently broke, and he fell 24 meters, chest first onto the top rope, flinging him violently into the ring. The impact of the fall severely wounded him, and he later died at the hospital from blunt force trauma to the chest.
A YouTube user by the name of Chris Breseman said that he was in attendance and witnessed the fall, who said that Hart's "body folded like a fucking accordion" The f[1]Image displayed in the WWE Network version of the event all did not occur on live Pay Per View; an interview with Hart as The Blue Blazer that was recorded in the backstage area earlier in the day was playing as the tragedy occurred.However, since WWF cameras were rolling at the time of the accident, footage of Hart's fatal fall exists on tape; this was confirmed in a column written by former WWF announcer Kevin Kelly in May 2013.[1] According to Kelly, the tape sits in the WWE Archive in Stamford, CT, with instructions "never to destroy, view or duplicate". Footage from the 1999 match where Darren "Droz" Drozdov got paralyzed accidentally is apparently in the archive with the same instructions.
The remainder of the event was only available online in the form of bootleg VHS recordings made during the event until the launch of the WWE Network in February 2014[2], where the event is available on the service although edited to not include the aftermath of the fall and the announcement of Hart's death by Jim Ross.
A comment by someone was once said that some television viewers claimed they've seen the fall live on satellite although it was uncredible
As people claim that no one recorded the fall, there are footages that were posted on internet websites but were deleted along with the accounts that posted the footage of the fall, some viewers had downloaded the footage was reposted but WWE will not allow anyone or anything post a footage of Owen Hart's fall no matter where it gets posted especially on YouTube. Not much footages of Owen Hart's fall was recorded by fans because most cameras were bulky and large in the late 1990s and were very difficult to sneak one into the show
Most YouTubers use fake titles to grab views with the videos such as New Jack throwing Vic Grimes off a rafter and Sting falling in the ringside of a WCW Monday Nitro TNT ring
Jim Ross has confirmed that Owen Hart's fall is the most shocking moment he has ever witnessed in wrestling
Most fans blame Vince Russo for Owen Hart's death because he was the one that got Owen to do his (failed) entrance at Over The Edge. A YouTuber says he holds both Vince McMahon and Vince Russo for Owen Hart's death because Vince Russo forced Owen to do the entrance at Over The Edge but Owen claimed he was afraid of heights but Vince Russo being the sniveling arrogant piece of shit and talked Owen into doing the entrance and for Vince McMahon he should've told Vince Russo to not make Owen Hart do the entrance and said if Owen doesn't wanna do the entrance then don't make him do it and there is no way in hell anybody is doing that entrance
2/29/16 UPDATE: Unfortunately, this video has been blocked by the WWE on copyright grounds.
WWF Jim Ross announces Owen Harts Death - Over the Edge 1999 [3]La Caida de Owen Hart en el PPV Over The Edge 1999 - Español Latino (SOLO AUDIO)
0:24 (the fall) OH NO!! (repeatedly) 0:50 "Friends... this... something... Ohh My God!... 1:42 "Friends, we're here in this moment... we're live... the Blue Blazer had to descend from above with his open cape... and apparently something hasn't worked as it should... he's being attended by medical staff..." 2:05 "I'm just asking to God Jehovah, in the name of Jesus Christ that nothing tragic happens... because, although the show must go on, all these 18,000 people just have lived what you have not lived in your home! a tragic moment... Blue Blazer wanted to make an entrance like a superhero, Carlitos... and something happened... we are very concerned -we cannot show you on camera what's going on right now because is something very tragic, we understand what this does not accord with the show... we're trying to figure out what is going on here... We're very concerned, Carlos." 2:55 "There are medical staff in this moment applying all necessary assistance to Blue Blazer,. first aid resuscitation being applied to Blue Blazer right now..." 1/24/19 UPDATE: The Fall of Owen Hart in the PPV Over The Edge 1999 - Spanish Latin (ONLY AUDIO)
This is the only surviving recording audio from the day of the fall, over 20 years since the events and someone out here finally leaked the events. Note, it's in Spanish, so I managed to get the translation on what the commentator was saying.
References
↑ 2013 column on Owen Hart, written by former WWF announcer Kevin Kelly on the 14th anniversary of Hart's death. Retrieved 23 May '13.
↑ http://www.wwe.com/inside/every-pay-per-view-on-wwe-network-26179147 Retrieved 4 February. '14
Reddit Link https://www.reddit.com/r/SquaredCircle/comments/3hm31f/over_the_edge_99_spanish_commentary_during_owen/Categories:
Community content is available under CC-BY-SA unless otherwise noted.    
Community content is available under
CC-BY-SA
unless otherwise noted.