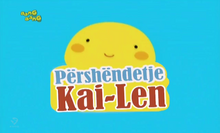 Përshëndetje Kai-Len is the Albanian Dub of the Nickelodeon series, Ni Hao Kai-Lan.
It was dubbed by Jess Discographic.
It airs on Bang Bang and is currently Lost.
Findings
FamuPokeSera has uploaded an Episode on Google Drive : https://drive.google.com/file/d/0B5cuqXdW1XKNN0lneE00MzdLeEk/view?usp=sharing
UPDATE: ChristinaGrimmieLove has clicked on the above link and saw that the file did not exist. The dub is now lost.
Community content is available under
CC-BY-SA
unless otherwise noted.