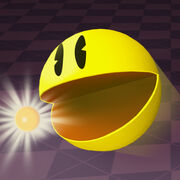 This is a lost iPhone app, which was deleted in 2015. It was a remake of 'Pac-Man Arrangement' with updated graphics. Unfortunately, although the app is archived on several websites, the app is unplayable since the servers are down.

" We regret to inform you that service for this application will be terminated as of 3/30/2015.
*Upon service termination, guarantees of operation no longer apply.
*The dates and times given above may be changed without prior notice.
[Warning]
This application does not currently support iOS 8.
[Warning]
This application does not currently support iOS7.
------------
PAC-MAN is back on your iPhone and iPod touch and he's ready to chow down on some brand new action in PAC-MAN REMIX!
Based on the world-famous arcade hit, PAC-MAN REMIX showcases enhanced graphics and lots of new exclusive features like boss battles, stage-specific gadgets, and power-up items!
Guide PAC-MAN through the maze and avoid the brightly colored ghosts while chomping up all the dots. Eat a power pellet to temporarily turn the tables on the ghosts. Gobble up as many ghosts as possible while they are blue. Chomp the ghosts consecutively during one power pellet to score major bonus points!" -The description of the app before it was deleted.