Wiki Targeted (Entertainment)
Play Sound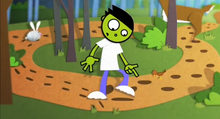 So, I was on the PBS Kids Wiki page for the 2008-2013 system cues, and I saw that there was an "unaired" section, this listed only 1 System Cue, which the page refers to as the "Footprints" System Cue. The page says that the System Cue was never aired, but could be found on Vimeo, so, I checked Vimeo, but with no luck. I was kinda thinking this was a transition shot in a promo, like this, but I wasn't sure. I then decided to check the page's history, to see when the edit was made, turns out, it was made by the user Themadhatterhouse on December 26th, 2011, so the Vimeo video was probably taken down. I have asked one of the people on Vimeo who worked on the 2008 System Cues if they knew anything about the System Cue and am hoping to get a reply. The crazy thing about all of this is that I feel like I actually remember seeing this System Cue airing on PBS Kids on my TV once before, I don't remember a lot about it, but I think it had Dash comparing his footprints to the others, I think it was kinda different from the others and had a kind of nature feel to it, then again though, it might be a false memory.

Please help me find this lost System Cue.

UPDATE: I was on Logopedia, and I saw that on the PBS Kids/Idents page, they had what looks like the ending to this system cue! I'm not sure, but I think it is!