Wiki Targeted (Entertainment)
Play Sound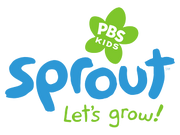 Sprout was an independent American digital cable and satellite television network that is owned by the NBCUniversal Cable subsidiary of NBCUniversal, all owned by Comcast. Sprout replaced the PBS Kids channel on some cable and satellite providers. The show broadcasted reruns of classic PBS Kids shows, as well as shows from HIT Entertainment and the Jim Henson Company. Every live segment was improvised and would sometimes feature certain characters from a show making a special guest appearance (such as Oscar the Grouch, Big Bird, Elmo, Zoboomafoo, or Barney). The original actors from the shows also reprised their roles for the channel's promos and bumpers.
This page is to look for original broadcasts from the channel from 2005 to 2009.
Blocks
Programs Broadcast at the time
Archibald the Koala
Angelina Ballerina
Barney and Friends
The Berenstain Bears
Big Sister and Little Brother
Bob the Builder
Brambly Hedge
Boohbah
Caillou
Captain Zed and the Zee Zone
Dennis and Gnasher
Dive Olly Dive
Dragon Tales
Fifi and the Flowertots
Fireman Sam
Fly Tales
Frances
Franny's Feet
George Shrinks 
The Hoobs
Jakers! The Adventures of Piggley Winks 
James the Cat
Jay Jay the Jet Plane 
Kipper
Lomax: The Hound of Music
Make Way for Noddy
Mama Mirabelle's Home Movies
The Mighty Jungle
Pablo the Little Red Fox
Pajanimals (2008 interstitials)
Panwapa
Percy the Park Keeper
Pic Me
Pingu
Play with Me Sesame (Sesame Street Spin-off)
Roary the Racing Car
Sagwa, the Chinese Siamese Cat
Sesame Street
Seven Little Monsters
Signing Time (interstitials)
Sheeep
Teletubbies
Thomas and Friends
The Three Friends and Jerry
The Wiggles
Zoboomafoo
Broadcasts Found
Community content is available under
CC-BY-SA
unless otherwise noted.