We're Getting Mutants in the MCU - The Loop
Play Sound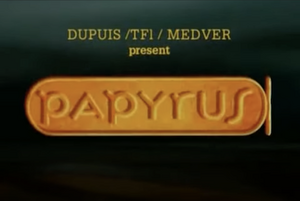 Papyrus (also known as The Adventures of Papyrus) is a 1998, French-Belgian-Canadian, children's, family, action-adventure, historical fantasy, animated television series. It is based on the comic book series by Lucien De Gieter. Production was shared by Dupuis Audiovisuel, Medver Inc., MediaToon, TF1, and Spirou Magazine. Co-production of the English version was between Disney Television Animation and Nelvana. Two seasons and 52 episodes were produced. There is also a movie called The Adventures of Papyrus: Seth's Revenge, but that actually just consists of some of the first season episodes edited into or as a movie.
Plot
Two gods named Horus (the god of light) and Seth (the god of evil) combatted with each other to settle who would possess Egypt. Afterwards, the Council of Gods had Seth exiled and Horus became Egypt's premier pharaoh. For two millennia, others followed him in ruling over the country. Seth retaliated by having Horus trapped in a dark, magical sarcophagus, which is within in a black pyramid called Ombos. Without Horus, this left Egypt vulnerable to Seth and his servant, Aker, who have the Egyptians under their tyranny, dictatorship, or totalitarianism. A young fisherman named Papyrus is hand-picked by the Gods to be Egypt's savior as he is assigned to search for a way to enter Ombos, liberate Horus, and have Egypt become peaceful again.
Status
The first 16 episodes are available on Kim Cartoon and several Kiss Cartoon sites. The entire series is available in French on Youtube, but only a few of the English-dubbed, first season episodes are available there. But the majority of episodes are still missing.
Videos