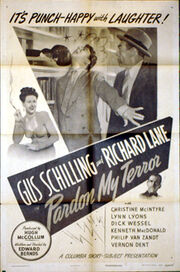 In 1946 a planned short film starring The Three Stooges was suppossed to be released entitled "Pardon My Terror"
.
Information.
This planned short was supposed to featue Moe,Larry and Curly and was to be shot right after "Half Wits Holiday". In an issue of The Three Stooges Journal a script for this short was included. Unfortunately this was cancelled due to Curly's stroke. And it was handed over to actors Gus Schilling and Richard Lane. The short was replaced by Fright Night in 1947 featuring Shemp. In 1949 the original script was rewritten with Shemp inheriting Curly's Lines and was released as "Who Done It !". "Who Done It" itself would later be remade in 1956 as " For Crimin Out Loud".
Director Edward Bernds used the original script. Schilling's had a Curly role and Lane had a Moe role. Larry's lines and material were alternated between the two. The film is similar to "Who Done It" with some differences.
Trivia.
The film was obviously intended to be the 98th Short Subject.
Community content is available under
CC-BY-SA
unless otherwise noted.