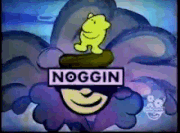 Phred on Your Head Show is an American anthology children's television series starring Phred. The series aired from July 26, 1999 to March 31, 2002 on Noggin, a cable channel operated by Nickelodeon and Sesame Workshop at the time.
When this show initially aired, it aired for 2 hours and aired twice until November 22, 1999. Then, the show was cut to an hour and aired on weekdays and weekends while half-hour episodes aired on weekend mornings.
Plot
The show stars a small green character named Phred, voiced by Doug Preis, who has his own variety show. In each episode, Phred hops across different people's heads to find a host, who then chooses a selection of Noggin programs to play.
Format
The rest of the show centers on Phred presenting his own variety show from the head of a child. An unseen character named Big Voice gives Phred the name of the upcoming episode's host. Phred hops from head to head of different people, and when he finds the host, a stop-motion theme song plays. It has replaceable lyrics that change to fit in the host's name. Once the host has been introduced, Phred tells the Noggin crew to "pickle" the host. This teleports the host and Phred into Noggin.com, where they choose different Noggin programs to show.
Segments
Opening prologue
The show opens with a prologue explaining Phred's backstory. He was a mascot for a pickle company called Phantastic Pickles and lived on a pickle jar. One day, Phred's pickle jar rolled off of a supermarket shelf and set him free. He was curious about the outside world and looked for a good place to think, which led him to the dot of Noggin.com. There, he became Noggin's spokesperson and went from "pickle jar to TV star."
Featured content
Episodes aired on weekends feature episodes or segments of select Noggin programs before and/or after Phred is searching for the host. Examples of these programs include Doug, Dirk Niblick of the Math Brigade, The Further Adventures of Zook & Alison, Sesame Street Unpaved, Mathnet, and The Electric Company. Occasionally, a "Snick Snack" or Short Films by Short People selection is aired as well.
Other segments
The series features a set of segments in addition to the Noggin programs. These included Phred's Got Mail (a piece starring Phred as he reads fan-mail aloud), Cecile and Her Very Own Universe (an animated addition and which appears on episodes occasionally), Pickles to Pluto (an segment that is to connect two things that have nothing in common), Out of Your Mind (an segment made by a kid or have packaged short films from Short Films by Short People), Tête à Tête with Phred (another segment where Phred hops onto the head of different historical figures and interviews them), and We Show It (a user-submitted segment where Phred plays a home video submitted by a viewer).
Broadcast
The first episode of Phred on Your Head Show aired on Nickelodeon on June 6, 1999, at 12 p.m, as an sneak peek. An encore showing aired on Noggin at 8 p.m. on the same day. Noggin aired reruns of the same episode throughout June, and it started airing the show regularly on Noggin on July 26, 1999. Until November 22, 1999, Noggin aired the show twice daily from 5-7 p.m. and from 8-10 p.m.
Starting on March 27, 2000, Nickelodeon aired the show regularly on its main channel. The show was played on Nickelodeon as the lead-in to a programming block made to advertise Noggin, called "Noggins Up" (later called "Noggin on Nickelodeon").
Reception
Phred on Your Head Show debuted to successful ratings, posting a 2.2 Nielsen score in 1999. Multichannel News reported that the show drew record traffic to Noggin's website.A preview episode of Phred on Your Head Show that aired on June 6, 1999 (over a month ahead of the series' official premiere) drew over 850,000 viewers, generating a 2.2 Nielsen Media Research national rating.
Phred on Your Head Show is mentioned in the 2001 book "Designing for Children: Marketing Design that Speaks to Kids" as an example of a program that was successfully able to transition from television to the Internet (referencing the show's online content at Noggin.com). Joanne Ostrow, an author for The Denver Post, wrote in November 1999 that she was "a connoisseur of Noggin's Phred on Your Head Show" and thought it was the most enjoyable part of Noggin's lineup.
Episodes
All of these episodes are from Season 1. The episode titles for Season 2 are currently unknown/lost. All of these episodes are the half-hour ones.
Episode 1: Mary (Elizabeth King)
Episode 2: John (Quashie)
Episode 3: Gilbert
Episode 4: Chance (Bradley)
Episode 5: Ashley (Saunders)
Episode 6: Dana (Harrison)
Episode 7: Terrence (Ali)
Episode 8: Noemi
Episode 9: Billy
Episode 10: Adam
Episode 11: Keisha
Episode 12: Allyson & Jillian
Episode 13: Erik
Episode 14: Anthony
Episode 15: Kelly
Episode 16: Bess
Episode 17: Tai
Episode 18: Amy
Episode 19: Omar
Episode 20: Kim
Episode 21: Craig
Available Footage
Some episodes of the show were recently found, but may be very hard to find another one, since before the episodes was found, it was completely impossible to any episodes, but after the episodes were found, more Phred on Your Head Show content have been found, so more episodes will be likely to be found.
Episodes
Interstitials/Promos
Short-filled programs and promos that would air in commercial breaks on Noggin.
Phred's on Pluto
An interstitial based on the segment Pickles to Pluto. In one of these promos, Phred is stuck at Pluto. He asks the viewers to log on to Noggin.com to play games so it can charge and full the Big Head Rocket to get Phred out of Pluto so he can host the Phred on Your Head Show. These promos were made to promote the show back when it's was new at the time.
Miscellaneous Promos
Other promos featuring Phred.
Community content is available under
CC-BY-SA
unless otherwise noted.