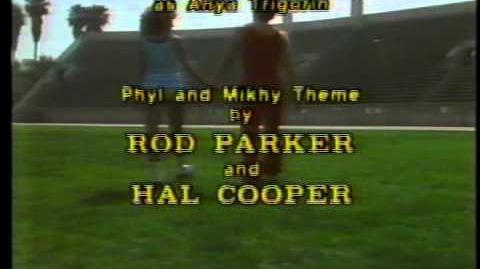 Phyl and Mikhy is a 1980 CBS sitcom about two track runners (Murphy Cross and Rick Lohman) who reside on opposite ends of the Cold War, but eventually meet up and marry. Mikhy then defects to America and moves in with Phyl's father Max (Larry Haines), where Mikhy must navigate the American landscape and avoid Russian agent Vladimir Gimenko (Michael Pataki, who coincidentally played a Russian hog expert on an episode of fellow CBS sitcom WKRP in Cincinnati that year), who wants to return Mikhy back to Russia. The series debuted on May 26, 1980, and aired only six episodes over the summer before it was cancelled. However, it remains tough to come across, with only the opening and closing credits available.
Community content is available under
CC-BY-SA
unless otherwise noted.