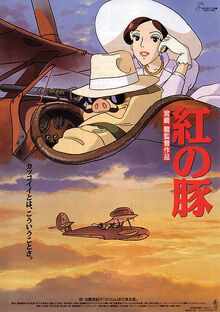 Porco Rosso is a 1992 Japanese animated comedy-adventure film written and directed by Hayao Miyazaki. It is based on Hikōtei Jidai, a three-part watercolor manga by Miyazaki.
Sometime before Disney released their dub on the film, the film was dubbed into English by an anonymous company for the Japanese Airlines. It is refereed to by fans as the JAL Dub (JAL is meant to be short for Japanese Airlines). This dub is extremely rare and was included in the Ghibli LD Box Set (English on the right analog track) and as a second language option on the first Region 2 DVD releases of the film in 2002. Barry Gjerde is known to have voiced at least 4 minor characters in this dub as indicated on his now defunct website.
The majority of the main cast is unknown, though it is speculated that Lynn Harris, Faith Bach and Greg Dale voiced Fio, Gina and Curtis respectively. Unlike Disney's version, this dub has a more hokey and cartoony attitude, complete with certain characters speaking in exaggerated European accents. Despite being discontinued after 2002, the dub can still be found in full on most anime pirating websites.
Voice Cast (TO BE CONFIRMED)
Porco Rosso - Patrick Harlan
Donald Curtis - Greg Dale
Fio Piccolo - Lynn Eve Harris
Gina - Faith Bach
Mr. Piccolo - Unknown 
Additional Voices
Purple Jumpsuit Pirate Captain, Pirate, Bank Teller and Old Man #2 - Greg Dale
Munitions Engineer, Telephone Voice, Radio Narrator and Watchtower Announcer - Barry Gjerde
Purple Jumpsuit Pirate Tailgunner, Gina's Pilot - Patrick Harlan
Mediterranean Queen Loudspe, Fuel Station Waitress, Kidnapped Girls, Boy in Theatre - Lynn Eve Harris
Mama Aiuto Lewis Gun Pirate, Maxwell, Dogfight Observer - Jeff Manning
Toothbrush Mustache Pirate - William Ross
Fuel Station Boy - Rumiko Varnes
Community content is available under
CC-BY-SA
unless otherwise noted.