Somewhere in 2013, an unknown racing game was resurfaced by a group called "XEMA" called Flow, it was supposed to be released on Steam (and planned for a release on the consoles) by apparently "Fiddero Productions", but their trace of any kind is down. No entry of any kind can be seen of this game on SteamDB or any other sites.
The Game was once apparently hosted on a Private tracker, but it was quickly taken down for unknown reasons. Only what seems to be a prototype thumbnail for the game has been recovered.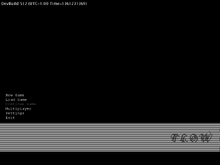 Plot
It is unknown if any plot have been made for this game. According to what was speculated by XEMA, you were a freshly assigned racer by the International Underground Racing League (apparently it was based on Need for Speed: Underground) to eliminate a racer named "Gonzo" which took control of most of the territories around the world. In the end of the game a huge police chase akin to Need for Speed: Most Wanted was supposed to be set on the player after they beat Gonzo in Tokyo, Japan.
Legacy
No other info can be found online. Mareko2, the person who found SuperBikkje Commando claims to have a prototype of this game, but it is unknown if the game didn't passed the conceptual stage. If he will decide to release more information about the game including files, this might debunk the existance of this game.
Community content is available under
CC-BY-SA
unless otherwise noted.