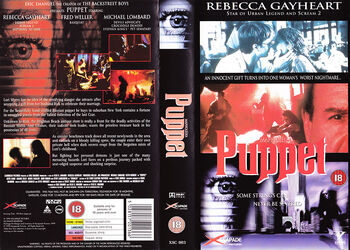 Puppet is a 1999 independent film directed by Felix R. Limardo, and starring noteworthy comedian/actor Artie Lange, alongside actress Rebecca Gayheart. The plot involves a woman named Lori (Gayheart) receiving a hand crafted Russian puppet from her husband Rick (Frederick Weller) to celebrate their marriage, only to find that the puppet has been filled with smuggled jewels. It is later revealed that the antiques store at which the puppet was purchased is actually Russian Mafia hideout, the head of whom wants nothing more than retrieve the puppet and its contained jewels. A bloody killing spree of newlyweds in the local area ensues as the mafia search for the right couple (now in hiding). Lori's personal demons surface during the commotion, giving the couple more problems than they can handle.
Lange has confirmed in his 2008 memoirs Too Fat to Fish that the movie was screened at at least one theater, as his manager went to see it. Lange, however, has apparently never seen the movie (at least not before 2008; he may have seen it now), as its distributor, Xscapade Pictures, (for reasons unknown), never ended up commercially releasing it. Despite the film's unreleased status, rebeccagayheartfan.com were seemingly able to obtain a copy, providing a scan of the front cover, plus an abundance of screenshots.[1] No actual video footage whatsoever from the film has ever surfaced online, and there's not a lot more information available about it, bar the cast list and credits.[2]
UPDATE 08 Nov: About a week ago (on Halloween night, to be precise), we conducted a special screening of Puppet, after dycaite located and purchased a VHS copy of the film. As of today, a download link has been provided for those who missed the screening, or for those who would simply like to have a copy of their own.[3]
References
↑ rebeccagayheartfan.com gallery containing 436 screenshots from the film. Retrieved 04 Oct '13.
↑ IMDb page for Puppet. Retrieved 27 Feb '13.
↑ mega.co.nz download link to the film. Retrieved 08 Nov '13.
Community content is available under
CC-BY-SA
unless otherwise noted.