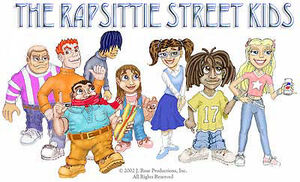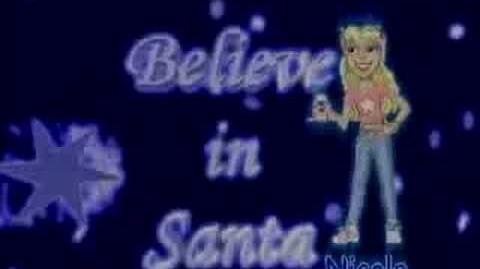 Rapsittie Street Kids: Believe in Santa is a musical 2002 CGI Christmas special from Wolf Tracer Studios Inc that aired on The WB (now The CW) on December 7, 2002.[1][2]
Believe in Santa was to be the start of a franchise introducing a group of kids known as the Rapsittie Street Kids. During the special, Nicole, a spoiled and cynical girl, receives a teddy bear as a gift from her classmate Ricky. Nicole sees no value in the bear and trashes it until she learns the sentiments behind the gift and the "true meaning of Christmas." Nicole and her friends attempt to hunt down the trashed stuffed animal before it's too late.
The special premiered with no fanfare and was met with overwhelmingly negative criticism regarding its storyline and poor graphics and animation. The songs, however, were noted to be rather good, though were hampered by odd camera angles and constantly shifting view. Many viewers took to the internet to express their disbelief that the special had aired with that quality of computer graphics, believing it was either a joke, or that network quality assurance at the time let anything pass as long as advertisers could be found.[3] Believe in Santa featured several high-profile voice actors including Mark Hamill, Nancy Cartwright and Paige O'Hara.[4]
Believe in Santa is increasingly obscure because it was aired sporadically at the discretion of local affiliates across the U.S. The special never aired again after its 2002 airdates and has never been released on any form of home media. A soundtrack featuring Whitney Houston that was advertised during the special was never released. The special ended with a teaser for an Easter-themed follow up called A Bunny's Tale, but it's unknown if that was ever completed.
The only footage that has been recovered of Believe in Santa is from a Wolf Tracer demo reel that also includes footage of their Dinosaur Island production. The project was known as The Bash Street Kids, and the name may have been changed to Rapsittie to avoid confusion with The Beano's "Bash Street Kids" comic strip.
In September 13, 2015, the Lost Media founder Dycaite found a copy and released it during Found Media Week. The special was reviewed (or rather, torn a new one) by reviewers in 2016, including RebelTaxi, TheMysteriousMrEnter, and the Nostalgia Critic.
References
Community content is available under
CC-BY-SA
unless otherwise noted.