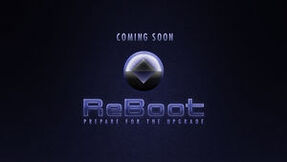 ReBoot (film) was a planned made for theaters movie trilogy announced in February of 2008. Paul Gertz (head of Rainmaker Animation) announced the development of story ideas on February 25th, 2008. The movie was originally slated to be in theaters in 2010, however this did not happen. As of now Rainmaker has stopped discussing any development on the ReBoot Movie.
Rainmaker Entertainment recently made this statement in an email in regards to the new movie.
"I've just been forwarded your email in regards to ReBoot – sorry it's taken so long for someone to respond. We are still in development on the story for ReBoot the movie. ReBoot is a heritage brand for our company and we all take great pride in what was created in the series. Our job now is to introduce that brand to an even greater audience, which naturally takes quite a bit of planning and time. I know fans can get frustrated but all I can say at this time is that we're all working hard to bring ReBoot back."
Rainmaker recently released a video containing an image labeled as "Loading Guardian, Version 1.0". As yet, fan reactions to this new Guardian seem mixed, but most are unimpressed, prefering a more original look for Bob.
On June 1, 2008, it was announced that there will be a trilogy of ReBoot films coming to theatres. Jon Cooksey was assigned to write the script for the first film, but as of August 2008, he was dropped due to Rainmaker deciding to take a different direction with the story. At this time, it is unknown who will replace him.The films are expected to follow a different story from the comic, but the overall plan is to continue the methodology in terms of engaging the fans.
A teaser for the film was released on October 5, 2009, on Rainmaker's official site. In addition, an alleged new character design was revealed for the movie in an animation reel. In a quarterly press release on March 11, 2011 Rainmaker CEO Warren Franklin announced "Our current slate includes several projects including a film based on the classic series "ReBoot".
Due to the fact that as of February 2011 Rainmaker has removed the trailer for the ReBoot movie from their official site as well as any reference to ReBoot, it is largely believed that they have abandoned the movie project. It is likely that the film was cancelled because a suitable replacement for the late Tony Jay (the voice of Megabyte, the main antagonist) couldn't be found.
The IMDB website has also removed any reference to the ReBoot movie.
Community content is available under
CC-BY-SA
unless otherwise noted.