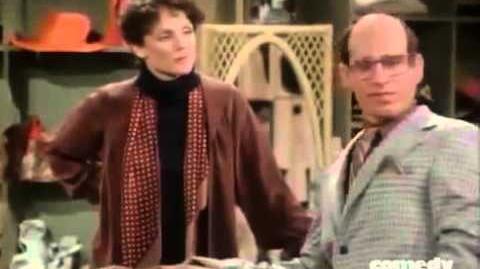 In the fall of 1978, CBS' Rhoda once again underwent changes for its fifth season (now cut down to 13 episodes), including Rhoda Morgenstern (Valerie Harper) getting a new hairstyle, her parents Ida (Nancy Walker) and Martin (Harold Gould) splitting up, and the series now airing on Saturdays at 8:00 Eastern time next to Good Times. However, due to competition from NBC's CHiPs, both shows were cancelled. While Good Times got to finish its sixth season, Rhoda was given the ax nine episodes in, leaving the last four episodes unaired. These episodes are:
"The Date in the Iron Mask" - Prior to an awards dinner, Rhoda's date gets stuck in a ridiculous mask.
"Martin Swallows His Heart" - In trying to win back Ida, Martin buys her a gold heart-shaped locket, but then swallows it.
"Earl's Helping Hand" - Benny Goodwin (Ray Buktenica)'s brother Earl offers to get Jack Doyle (Kenneth McMillan)'s costume department out of debt by giving him $5,000, but ends up working with Rhoda.
"Brenda Runs Away" - Fearing that everyone is trying to run her life, Brenda Morgenstern (Julie Kavner) decides to run away.
The four episodes were never burned off over the summer, but did air in syndication and were included alongside the nine aired episodes on Shout! Factory's 2017 DVD release of the season.
Community content is available under
CC-BY-SA
unless otherwise noted.