In 2014, a pilot was made at Warner Bros. Animation titled "Dog, Chocolate, Ice Cream, Diamond, Cat, and Moon". It's a original pilot that was retooled into "Right Now Kapow" that aired on Disney XD for a short time between 2016 and 2017. The original pilot was screened at Warner Bros. Animation once, and people liked it. The pilot was secretly put into greenlight by Adult Swim into series for a late 2015 release. However, at the end of August 2015, Warner Bros. Animation later departed with Adult Swim, and sold it to Disney XD instead, with Disney XD approving it. The series was announced on September 2015 as working title "Airline Earth", that would later become "Right Now Kapow". In the original pilot, Chocolate was a early design for Candy, while Cat was also a early design for Plant. Unlike the show which only uses 2D animation, it is a mixed-media pilot, containing 2D animation, live action, puppetry, and CGI animation, lasting only 11 minutes. But when it was sold to Disney XD, Warner Bros. Animation made some changes, making the show only using 2D animation, and changing Chocolate and Cat to Candy and Plant, respectively. Not much is known about it, making the pilot lost.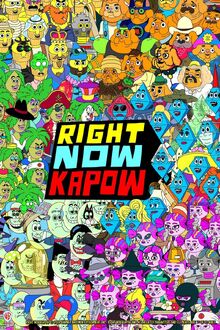 Community content is available under
CC-BY-SA
unless otherwise noted.