Rillin was a sitcom that aired on nickelodeon between 1999 and 2000. The ratings were bad due to the sporadic nature of its airing. This caused its cancellation after only 8 months on air. The only reruns that ever aired were few instances during the n's infancy.
THE SHOW
All that's known about Rillin was that it was about Jordan Rillin, (played by Jack Mahoney). No footage exists online. Only this picture from a behind the scenes video that aired during nickelodeon commercial breaks. Jordan Rillin was a teenager that got himself in trouble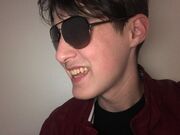 at his job at a local car wash called "The Spray" with his buddies James, Rob and Jessica. Played by Mark Glenn, Patrick Garland, and Serena Black. None of the main cast has had any major acting roles since then, none have any online presence, and Mark Glenn reportedly has been in jail since 2004 for an undisclosed crime. It is unknown if the show even existed due to lack of info, as there's no way to verify if the picture that was discovered is even real. Search engine results yield no info, as it's very likely people growing up at the time never saw it, due to its sparce air schedule.   
EPISODES             
| | | |
| --- | --- | --- |
| 1: Sept. 20, 1999 | The Spray's Hooray | |
| 2: Sept. 21, 1999 | [TITLE UNKNOWN] | |
| 3: Sept. 22, 1999 | [TITLE UNKNOWN] | |
| 4: Sept. 23, 1999 | [TITLE UNKNOWN] | |
| 5: Sept 24, 1999 | Auto Lotto | |
| 6: Nov 2, 1999 | [TITLE UNKNOWN] | |
| 7: Jan 25, 2000 | Wishy Washy | |
| 8: May 3, 2000 | Meanwhile Elsewhere | |
| 9: May 4, 2000 | Grillin with Rillin | |
| 10: May 5, 2000 | Talk of the Town | |
Reportedly, all episodes aired on weekdays during normal school/work hours, making it very difficult to be seen by people. this accounted for the low ratings. The show's creator is unknown, and the writers of any of the episodes are unknown. Nickelodeon has not commented on the show, and rumor has it that they tried to get rid of it as soon as possible, so promotional material was minimal.
UPDATE: 7/6/2018
The title of episode 9 has been discovered. We still have yet to find the titles of 2, 5, or 6 let alone any footage or screenshots from an episode.
UPDATE: 7/23/2018
This cropped screenshot was uploaded by a twitter user who later took the post down. It is apparently from episode 7: Wishy Washy.
UPDATE: 9/1/2018
The alleged "sighting" of Jack Mahoney has been confirmed as fake.
UPDATE: 10/1/2018
What was thought to be Episode 3's title has now been confirmed as fake. The Nickelodeon twitter account has currently blocked 2 now deleted twitter accounts who asked for information regarding the show. It's thought that if you could get into an older version of hulu, you may be able to watch episodes that way.
It is thought that the two twitter accounts that asked nickelodeon about rillin were only created to do so, to protect anonymity, as their usernames were strings of random letters and numbers.
UPDATE: 12/21/2018
The title of episode 4 has been found to be fake. In addition a possible title to episode 5 has been found.
Community content is available under
CC-BY-SA
unless otherwise noted.