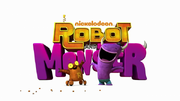 Robot and Monster is a short-lived Nicktoon, created by Dave Pressler, Joshua Sternin, and J. R. Ventimilia that premiered on August 4, 2012. The show was quickly taken off the Nick schedule in Janurary 2013, leaving 4 episodes unaired. (Though reruns continue to air on Nicktoons)
One of the four unaired episodes (Dirty Money and What J.D. Wants) aired on Nicktoons on December 26, 2013, while the series-finale (Monster Hit) aired on July 19, 2014, thus ending the series, though the other two still remain elusive. However, a Complete Series DVD has been released on November 11, 2014, including the two unaired episodes. (Though it is still unknown if these episodes will ever be broadcast on TV)
Scrapped Season 2
During production of the show, Nick felt confident about giving the series a Second Season, containing about 14 episodes. But they then decided to cancel production of the second season, and later completely abandoned the show.
Blimp Pirates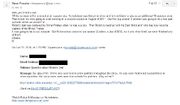 In the half-hour Season Premiere, we discover why Robot's Father, Brickland, was absent during the series. After founding the Blinking Light Factory, he was somehow captured by Blimp Pirates, who are none other than pirates who used Blimps instead of Pirate Ships. Robot later attempts to reunite with his Father.
This episode was later revealed on February 12, 2014, when someone asked Dave about the absence of Robot's Father.
Best in Marf
Robot and Monster try to get Marf to be purebred, in order to compete in The Prince of Scamtown's purebred pet competition.
A storyboard of the full episode was uploaded by Roy Meurin on Vimeo on May 1, 2014.
The Dark Night (Pilot Version)
The Original Pilot of Robot and Monster is an early version of "The Dark Night". The only differences between the Pilot and the TV Version, is that it's 16-Minutes Long, Lil' Lugnuts doesn't appear, and Robot's line, "Did I catch the Howling Cybermonkey that escaped from the zoo?", is replaced with "Do I hear a Howling Cybermonkey?". The final TV version still kept the same story elements. This was confirmed by the Show's creator, Dave Pressler.
The Pilot was never released to the public, but an extra logo and screenshot (possibly during development for the pilot) still exist.
Unaired Intro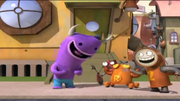 Before the show premiered in Mid-2012, the intro was originally going to have a different song, similar to a musical number, with a montage of shots. This was confirmed by the Show's creator, Dave Pressler, via E-Mail.
Community content is available under
CC-BY-SA
unless otherwise noted.