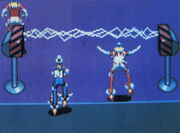 Rollerbabes
is a cancelled sports-action game that was originally developed by Cinemaware and Mirrosoft for the PC and Amiga. It was passed on to Acme but the game never came to fruition. Its intended release date was late 1991.
Set in the future, the game is about a violent fictional sport tournament, being a mix of hockey, wrestling, skateboarding and boxing. Contestants would have to chase a ball in an arena and brutally knock away opponents, while avoiding deadly traps.
The main team available to play is the Rollerbabes, that is made entirely of women (looking like California beach models). Other teams are The Moving Violations (looking like traffic wardens), The Stud Lites (cowboys), The Reddiwreckers (construction workers), The Subhumans (surfers), The Fabulous Pig Brothers (fat blues musicians), The Buzzcuts (hairdressers) and The Eraserheads (schoolteachers).
The levels would have been commentated by a character resembling Jack Nicholson.
The set-up would have been inspired by the 1975 movie Rollerball and be similar in aspects to Image Works' Speedball (1988).
It was written by Ken Melville. 80 character portraits were drawn by graphic designer Jeff Godfrey.
No playable copy or prototype has every resurfaced to this day.
References
Community content is available under
CC-BY-SA
unless otherwise noted.