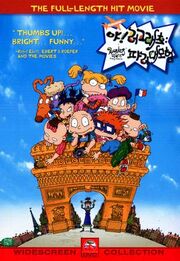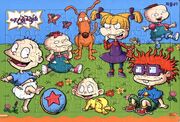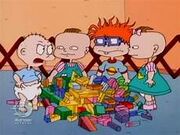 Rugrats is a animation that airs in nickolodeon, while the original series ended, the new cgi reboot series was made in 2021. There was a Korean Dub that aired in an unknown year.. The voice cast is unknown, The intro has been only surfaced in youtube and no footage has been found but however, Rugrats go wild and rugrats movie can be found in netflix or youtube movies. the only image has been found is the sticker coloring book released in korea and the 2 movie posters and the animation screenshot and the promotional puzzle. The rugrats movie poster is not uploaded due to copyright by youtube. The reboot series is not dubbed yet.The rugrats go wild is on netflix, However the dub did not release as home media such as vhs and dvds and only rugrats in paris was only released as dvds. Also, Rugrats movies in korean is avalivable in some sites, Like Itunes. However, You need a korean credit card, use a proxy server to rent/buy the movie. And, When Nickelodeon Korea Launched, Some EBS Nick Shows were moved to the former channel. But However It is Unknown if this was Moved Or Not and The Korean Translation is Hey!Rugrats and the show might have been reran and It is not avalivable on Netflix and the 3 flims has been found.
EDIT 1: I Found one voice cast. So-yeong Lee as Phil and charlotte.
EDIT 2: I Found out that the Rugrats go wild name in korean is 야러그래츠: 무인도 모험.
EDIT 3: I found out that it was on korea netflix, in one point, however it was deleted.