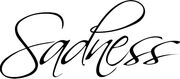 Sadness was going to be a survival horror game developed by Nibris for the Nintendo Wii.
Story
Setting in pre-World War I Ukraine, the story was about Maria Lengyel, an aristocrat of Polish-Hungarian descent has to protect her son Alexander after the train Lviv derails to the Countryside. After Alexander goes blinded due to the incedent, he begins to have a strange behavior that becomes worse as the game progresses. The game was planned to have a branching storyline coming with one of the 10 possible endings.
Cancellation
Nibris is infamous for the delay of the game as well the cancellation of two games for the Nintendo DS (the latter also for Wii). Some people speculate that the game was vaporware, as there is no existence of a playable demo shown in public, a trailer, or screenshots at all. It was later revealed that the game entered development hell due to struggles with the developers and deadlines, resulting in its cancellation in 2010 as well the closure of the company.
On May 20, 2014, indie developers Randy Freer of HullBreach Studios and Jeremy Kleve of Cthulhi Games were interviewed by Nintendo Life. They claimed that they officialy aquired the property of Sadness from Nibris, and they planned to collaboratively re-devoloping the game's concept from scratch for a 2016 Wii U-exclusive release. Unfortuanely the next day, the developers retracted their claim, stating that they failed to aquire the rights of the propety (most likely helded by Bloober Team, another game developer along with all Nibris' projects). The unfinished game will never see the light of day.
Community content is available under
CC-BY-SA
unless otherwise noted.