m

m

Line 1:
Line 1:
−

Around 1996, as the Sailor Moon anime ended its United States syndicated run, the anime was getting some speed in South America and in the Mexican edition of Club Nintendo in issue 3, Vol 5 (dated March, 1996) same issue that had an unreleased [[Dragon Ball (unreleased 1996(?) game)|english version of Dragon Ball Z: Super Butoden 2]]; they had a small preview of the game at the end of the issue for a full-on look at the game in the following issue. According to the preview blurb, it would have been released exclusively for the American Spanish speaking counties by Itoch. The game in question would of been the early [http://sailormoon.wikia.com/wiki/Sailor_Moon_(Super_Famicom) SNES/Super Famicom game release] by Angel and Arc Systsem Works in 1992, and then by Bandai in 1994 in France.

+

Around 1996, as the Sailor Moon anime ended its United States syndicated run, the anime was getting some speed in South America in the Mexican edition of Club Nintendo in issue 3, Vol 5 (dated March, 1996) same issue that had an unreleased [[Dragon Ball (unreleased 1996(?) game)| version of Dragon Ball Z: Super Butoden 2]]; a small preview of the game at the end of the issue for a full-on look at the game in the following issue. According to the preview blurb, it would have been released exclusively for American by . The game in question would been the early [http://sailormoon.wikia.com/wiki/Sailor_Moon_(Super_Famicom) SNES/Super Famicom game release] by Angel and Arc Works in 1992, and then by Bandai in 1994 in France.

 
 
 

The next issue was published and nothing was shown. It was mentioned in the same ending column that they will indeed look into the game the next month.

 

The next issue was published and nothing was shown. It was mentioned in the same ending column that they will indeed look into the game the next month.

Line 5:
Line 5:
 

Unfortunatly, nothing was mentioned in the following issue and ever since.

 

Unfortunatly, nothing was mentioned in the following issue and ever since.

 
 
−

As far as existence goes, it's unknown other than these scans and the info that was given in those scans, it could very well be the people who put the preview together where ether handed the Japanese or French version of the game and been told that version would be coming to American Spanish speaking countries later that month or so fully translated, or there is a American Spanish or even possibly an English version of the game that has never seen the light of day...

+

As far as existence goes, it's unknown other than these scans and the info that was given in those scans, it could very well be the people who put the preview together where handed the Japanese or French version of the game and been told that version would be coming to American countries later that month or so fully translated, or there is a American Spanish or even possibly an English version of the game that has never seen the light of day...

 
 
 
 
 
 
−

[[File:Sailormoon.png|thumb|left|the blurb at the end of the issue featuring the SNES/SFC Sailor Moon game]]

+

[[File:Sailormoon.png|thumb|left| blurb at the end of the issue featuring the SNES/SFC Sailor Moon game]]

 

[[File:Club_Nintendo_Vol._5,_Issue_3_dated_March,_1996|thumb|Club Nintendo Issue 3, Vol 5 dated March, 1996]]

 

[[File:Club_Nintendo_Vol._5,_Issue_3_dated_March,_1996|thumb|Club Nintendo Issue 3, Vol 5 dated March, 1996]]

 

[[Category:Lost Video Games]]

 

[[Category:Lost Video Games]]
---
Revision as of 07:09, 10 August 2017
Around 1996, as the Sailor Moon anime ended its United States syndicated run, the anime was getting some speed in South America. in the Mexican edition of Club Nintendo in issue 3, Vol 5 (dated March, 1996) same issue that had an unreleased English version of Dragon Ball Z: Super Butoden 2; there was a small preview of the game at the end of the issue for a full-on look at the game in the following issue. According to the preview blurb, it would have been released exclusively for Latin American countries by Itochu. The game in question would have been the early SNES/Super Famicom game release by Angel and Arc Systems Works in 1992, and then by Bandai in 1994 in France.
The next issue was published and nothing was shown. It was mentioned in the same ending column that they will indeed look into the game the next month.
Unfortunatly, nothing was mentioned in the following issue and ever since.
As far as existence goes, it's unknown other than these scans and the info that was given in those scans, it could very well be the people who put the preview together where either handed the Japanese or French version of the game and been told that version would be coming to Latin American countries later that month or so fully translated, or there is a American Spanish, American Portuguese or even possibly an English version of the game that has never seen the light of day...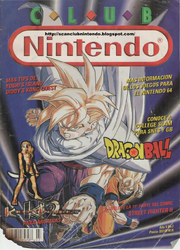 Community content is available under
CC-BY-SA
unless otherwise noted.