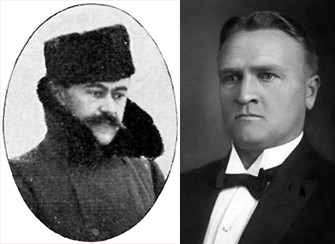 On May 29, 1907, a comedy film directed by Louis Sparre and Teuvo Puro called Salaviinanpolttajat was released to Finnish theaters. The film's title, when translated to English, is The Moonshiners. Some information on the plot of the film can be found in several descriptions, as given in newspaper advertisements that still exist. The plot is about two men who make moonshine in the woods. A customer comes to them, and while sampling the moonshine, the three start a game of cards, which eventually leads to a fight. The police then arrive and arrest the moonshiners while the customer gets off scot-free.
The story of how it was made is actually slightly interesting. The film's screenplay was originally a submission in a 1907 screenplay writing contest commissioned by considered "Father of Finnish Cinema", Karl Emil Stahlberg (who, interestingly, had written the screenplay that originally inspired the 1907 submission). The submitted screenplay, which had been attributed to the pseudonym "J. V-s", (whose identity is speculated to be either Stahlberg himself, or a local sheriff), took out first place in the contest.
Soon afterwards, the screenplay was adapted, and directed by a friend of Stahlberg, Louis Sparre. The information on the cast also comes from the same newspaper advertisements as the information on the plot. The cast includes Eero Kilpi and Teppo Raikas as Salapolttajat (The Two Moonshiners), one of the directors, Tuevo Puro as Junkkari (The Customer), Alex Rautio as Nimismiehen apulainen (The Sheriff), and Jussi Snellman as Nimismies (The Police Chief). No known copies of Salaviinanpolttajat have been preserved, rendering it a lost film, along with the original screenplay submitted in the contest, which has also seemingly vanished.
Community content is available under
CC-BY-SA
unless otherwise noted.