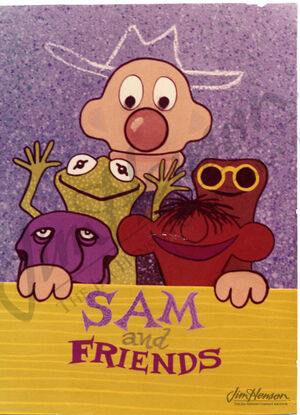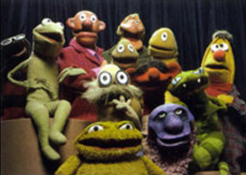 Sam and Friends was the first TV show created by puppeteer Jim Henson and his wife Jane that was filmed in Washington, D.C. The show aired twice daily on WRC-TV, the NBC affiliate in Washington, D.C. from May 9, 1955 to December 15, 1961 and had a total of 86 episodes.
Only a total of 59 shorts (15 existing, 35+ documented, and 9 known from memory) of the show have been listed as known episodes. Some of the episodes that have been taped have been shown at the Paley Center for Media, while others have been shown at screening events at venues like the Museum of the Moving Image. The remaining episodes (which have yet to surface), documents, and scripts are being stored and kept in archives in Long Island City or in a separate archive in California. It is unknown what may have happened to the other 28 unidentified episodes.
Back then before videotapes existed, shows would have to be deliberately recorded on kinescope using a film camera pointed directly at a video monitor in order to save shows for later reruns, or specifically for future home media releases (which definitely did not exist until the mid-1980s). If not, shows would not be saved, instead being performed live rather than being aired on television via recording. Jim Henson rarely bothered to record any of his programs, unless it is something he liked or with an aspect he wanted to review.[1]
Karen Falk, director of the archives and head archivist, states that the reasons why Sam and Friends episodes couldn't be released to DVD or online are because Disney owns the rights to the characters and NBC owns the rights to Sam and Friends, along with all the music copyrights.
Existing episodes
A handful of episodes that have been taped have been shown at the Paley Center for Media; others have been shown at screening events at venues like the Museum of the Moving Image. Only a certain amount of these existing episodes have been found online and also included in a compilation that can also be found on YouTube. Some episodes on this list however have not yet surfaced online and are not included in the compilation.
C'est Si Bon: In a French village setting, Moldy Hay lipsynchs to Stan Freberg's rendition of "C'est Si Bon," with Hank and Frank repeating his dialogue too literally as backup choir.
Chef Omar: Omar prepares a chef salad, which blows up in his face when he serves it flaming.[2]
Glow Worm: Humming along to "The Glow-Worm", Kermit is bugged by some inchworm-like fingers and is later met with a human hand.[2]
A Horse Named Bill: Kermit lipsynchs and plays the banjo to a recording of "A Horse Named Bill". This sketch is sometimes called "Loona" (referencing the singer's object of affection, Loona.)
Hunger is From: Lipsynching to "Hunger is From", Yorick details his midnight snacking while eating a plate full of food.
Huntley and Brinkley: In a parody of The Huntley-Brinkley Report, Kermit hosts an interview with NBC News anchormen Chet Huntley and David Brinkley (as played by Hank and Frank).
I've Got You Under My Skin: Icky Gunk, and Hank and Frank serve as chorus singers in a lipsynched rendition of Stan Freberg's "I've Got You Under My Skin" while Kermit, in spoken dialogue, messes up the lyrics.
Poison to Poison: Lipsynching to the Spike Jones track "Poisen to Poisen", Harry the Hipster (as "Ed Burrow") interviews Chicken Liver (as Alfred Hitchcock) in his rather horrifying home.
Powder-Burn: A pun-filled Gunsmoke parody with Marshall Dilly (played by Chicken Liver) preparing for a showdown with Black Bart (played by Yorick) which results in a game of chess.
Singin' in the Rain: A little girl Muppet lipsynchs to a double-speed version of "Singin' in the Rain". The scene ends with her drowning in the pail of water.
Visual Thinking (1959): In a mix of puppetry and animation, Harry demonstrates the art of Visual Thinking to Kermit -- and what it does to you once it gets out of control.
Two Face West: Lipsynching to the Bob and Ray recording "Two Face West", Kermit and Chicken Liver are two cowboys who are having a little trouble getting off their horses. This sketch is sometimes called "The Westerners" or "Riding Horses Backwards".
Weather Warehouse: Harry demonstrates to a skeptical Kermit his new business for selling weather, and gives him a tour of the warehouse.[3] Only a brief footage of the skit, with no audio, is currently found, but the rest has yet to be uploaded.
The Yellow Rose of Texas: Kermit lipsynchs to a Stan Freberg recording of "The Yellow Rose of Texas" and deals with an out-of-control drummer. Only a brief footage of the skit is found, but the full sketch has not surfaced online. This was (also) performed on The Steve Allen Show on April 21, 1957.
Documented
While video footage for some segments do exist, some other episodes have been documented by multiple sources.
Kermit performs a parody of "Anything You Can Do" with prerecorded footage of himself. An excerpt of this skit has been documented via a trip to the Henson Archives.
Kermit 1: I can be on TV, where the people see me.
Kermit 2: I can be in person, and without rehearsin'.
Kermit 1: Lots of people know my face.
Kermit 2: That face there?
Kermit 1: Yes.
Kermit 2: I don't care.
Kermit tries to play an instrument, but Professor Madcliffe tells him he can't because he isn't in the Musician's Union, so Harry and Yorick help him make music.
Henson used a puppet made from the skull of a squirrel to lipsynch to a recording of "There's a New Sound."[4]
One sketch spoofed NBC news program, Meet the Press.[5]
Characters lipsynched to a Mel Blanc recording of "Money".[6]
Elvis Presley recordings were used as satire.[7]
A sad love song is sung by a Muppet who holds a picture of his lady-love upside-down.[7]
Kermit and Chicken Liver lipsynched to a Spike Jones recording of "Yes! We Have No Bananas" on The Today Show on April 10, 1961 (this footage has been documented in an NBC special for Time and Again). It was also performed on Sam and Friends circa 1959.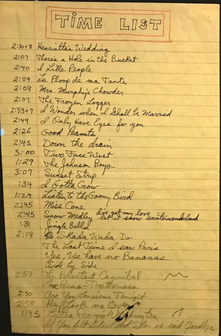 Other documented musical numbers include "Henrietta's Wedding," "There's a Hole in the Bucket," "I Like People," "La Ploop de ma Tante," "Mrs. Murphy's Chowder," "The Frozen Logger," "I Wonder When I Shall be Married," "I Only Have Eyes for You," "Good Peanuts," "Down the Drain," "Two Face West," "The Johnson Boys," "Sunset Strip," "I Gotta Grow," "Listen to the Gooney Bird," "Miss Cone," Snow Medley ("I've Got My Love," "Let It Snow," and "Winter Wonderland"), "Jingle Bells," "Shada Wada Do," "The Last Time I Saw Paris," "Side by Side," "The Reluctant Cannibal," "Love Poems - Togetherness," "Are You Lonesome Tonight," and "Hey, Look Me Over."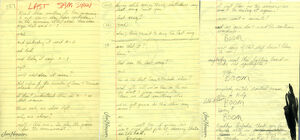 In the final episode, which aired on December 15, 1961, Kermit sings a song, then discusses the end of the series with Harry -- who blows up all the scenery and equipment since they won't need it anymore. This sketch is not generally available for viewing, although it has been believed to be kept in archives.
From Memory
While some of the other episodes [that are believed to be lost] have been documented by either the Henson Archives or some published newspaper articles, fans who grew up watching Sam and Friends (while it was still on the air) have remembered watching some of the show's lost episodes from memory. However, Muppet Wiki cannot add these memory-known episodes to the Sam and Friends article, due to their policy to not trust memories. A YouTuber by the name Jeffrey Goodwin has posted a comment on the YouTube video for That Old Black Magic, stating some of the lost Sam and Friends episodes he remembers from memory as he watched the show on TV during his childhood.[8]
Banana Boat (Day-O): Kermit and Sam lipsynch to a Stan Freberg recording of "Banana Boat (Day-O)." This was filmed in color.
Yes! We Have No Bananas (1959): Kermit, Chicken Liver, Moldy Hay, and Harry lipsynch to a Spike Jones recording of "Yes! We Have No Bananas."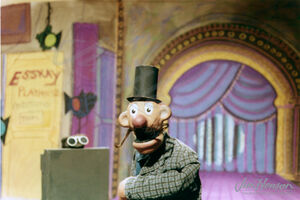 Magical Sam (circa 1960): Sam performs some magic tricks, including the famous rabbit hat trick, card stick to the wall, and a long rope in the mouth-- some tricks work and some don't (accompanied by small amounts of claps and gasps from the audience). An echoing voice says "Any volunteers?" Then Harry steps up as a volunteer to turn into a dog, but Sam accidentally uses the wrong spell and the trick goes awry, turning Harry into a monster. Sam becomes terrified and runs away as the now monster Harry just waves goodbye. Video footage is not known to exist, but a photo of the sketch has been found from Jim Henson's Red Book.[9]
Little Blue Riding Hood: With characters lipsynching to a Stan Freberg recording, the skit opens with a title card that says "Muppet News," featuring Sam as the news anchor. The scene then cuts to Omar (playing the detective, sporting a detective suit and fedora), and Henrietta (playing the girl in the blue hood). The scene then cuts to Omar ringing the doorbell to talk to Henrietta's grandma (played by Mushmellon wearing glasses and an old lady wig). Omar was on the bed, whereas Henrietta walks in and tells Omar that her grandma has a mustache and she doesn't. The skit ends with Sam and Omar talking. This skit was filmed in color.
That's What I Like About the South: Sam, sporting a tuxedo, lipsynchs to a Phil Harris recording.
Jailhouse Rock: Hank, Frank, Pierre, and Yorick in prisoner outfits (with Pierre and Yorick donning B&W-striped jail hats) dance behind jail bars and lipsynch to an Elvis Presley recording. The song ends with them running away from Sam (who is sporting a cop outfit).
The Great Pretender: Moldy Hay (lead singer) and Icky Gunk (pianist) lipsynch to a Stan Freberg recording.[10] This skit was filmed in color.
Looking for a Hammer: Professor Madcliffe builds a rocket and needs one more touch. He thinks he lost his hammer, then he starts panicking and running across the world. First, he rushes to Paris where he tells Pierre the French Rat, "Have you seen a hammer around here?!" "Nope," says Pierre (with a voice sounding like that from Stan Freberg's "C'est Si Bon" recording). Madcliffe then bolts over to Mexico and meets up with Chicken Liver, who is riding a horse (which may be a reference to "The Westerners" clip). "Have you seen a hammer around here?!" yells Madcliffe. "Que?" asks Chicken Liver in a Spanish accent. Professor repeats his line in Spanish. "No," says Chicken Liver. Professor nods his head, then travels over to Britain, with Kermit asking the same question and responding with a British accent. The title card "34 hours later" follows up, then Madcliffe returns to his lab and suddenly notices his hammer lying in the corner all this time, and so he facepalms. (According to a one newspaper article,[7] there is confusing evidence that this segment was shown after the sad love song in one program.)
Stan Freberg himself pops his head into frame and criticizes the Muppets for using his records without giving him credit. Kermit says "here's a little credit" and pounds him back out of frame with a mallet.[10]
Unknown
There are many episodes of Sam and Friends that are unidentified or unknown to exist. Out of 28 unidentified episodes, here are a few listed:
Characters lipsynched to a Perry Como recording of "The 12 Days of Christmas."
Chicken Liver tells the story of "The Three Little Pigs."
Characters lipsynched to "If You Felt Like I Did When We Said Goodbye."
Kermit, Harry, and Professor Madcliffe at a drug store in downtown. A terrible-quality, black-and-white, behind-the-scenes photo has survived.[11]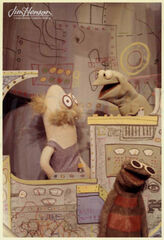 Kermit and Harry the Hipster with Professor Madcliffe in a factory. Video footage is not known to exist, but a photo of the sketch has been found from Jim Henson's Red Book.[12]
In The Muppet Show episode 218, Kermit introduces "Tweedle Dee" as "the very first piece of material the Muppets ever did ... about 23 years ago." This would make "Tweedle Dee" the first song performed on Sam and Friends in 1955, but the actual Sam and Friends video footage for it is not known to exist and, judging by Kermit's statement from The Muppet Show, it is unclear whether "Tweedle Dee" was performed on either The Junior Morning Show, Afternoon with Inga, or even Sam and Friends itself (three television shows that dated around the early days of the Muppets).
Kermit (sporting a wig) and Sam lipsynch to an Etta James recording of "At Last" and perform in a television set (whereas Yorick and Harry, this time, are not there to watch).
Mushmellon, Icky Gunk, Kermit (with a wig), Sam, Omar, Wilkins, Frank (with a wig), and Professor Madcliffe singing. It's unknown what song they appear to be singing, but a brief clip for it was seen during the closing curtain for the Jim Henson Exhibition at the Museum of Moving Image.[13]
Commercials
Esskay Meats was the original sponsor for Sam and Friends, and served as the launching pad for Henson's experiments in using puppets and sharp humor in selling products. Each episode of Sam and Friends ends with an Esskay Meats commercial skit featuring the show's characters. Many Esskay commercials with these Muppet characters (including Kermit, Harry the Hipster, Sneegle, King Goshposh, Rowlf, Moldy Hay and Yorick) were produced from 1959-1963.
13 known commercials (8 existing, 4 documented, and 1 known from memory) have been listed as follows.
Three Esskay commercials at the end of a couple of Sam and Friends episodes have been found online:

After "C'est Si Bon" finishes, an early version of Limbo (a moving mouth and two dots for eyes) pops up in a little girl Muppet's mirror, explaining that Esskay Chicken is "the fairest chick of them all."
After Kermit finishes his interview with Huntley (Hank) and Brinkley (Frank), the loudmouthed Professor Madcliffe pops up in front of the camera and yells loudly toward the audience promoting Esskay's new pork and bacon sausage, while Harry the Hipster comes in to get him to talk quieter, stating that "they're on the air."
After That Old Black Magic transitions out, Omar comes through the television set with a soft voice to talk about Esskay meat products, only to be interrupted by Professor Madcliffe about how people buy things to take care of their families. When his speech is over, he is only to learn his time is up to continue the commercial on the television.
In May of 2015, a small handful of Esskay commercials were restored from the Henson Archives. Here are the Esskay Meats commercials from Sam and Friends that have so far been restored from the Henson archives (but have yet to surface online) as follows:

Professor Madcliffe and Henrietta (referred to here as Mildred) keep mispronouncing words in the script. Henrietta keeps flubbing lines from the copy for the advertisement.
Madcliffe and Icky Gunk act as spies.
Hawk's Bacon (FOUND): Kermit and Harry the Hipster scat some jazz on piano.
Kermit and Harry describe a bacon package displayed on the wall at an art gallery.
Harry (in drag, as a librarian) suggests meat books to Kermit in a library.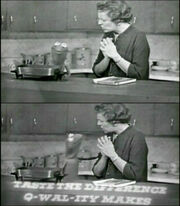 According to a Tough Pigs forum post from 2004, there were a couple of other known Esskay commercials, featuring the Muppets with Esskay spokeswoman Patricia[14].

"Patricia has a paper bag stuffed with Esskay sausage products, and she's asking Moldy Hay what he likes. She brings out each item, and he says that he likes that one okay, but it's not his favorite kind. After spotlighting each product, Moldy Hay admits that his favorite kind is pork and bacon sausage. Kermit pops out of the paper bag, having eaten all the pork and bacon sausage, and he delivers a tagline about how Esskay makes their sausage with the finest quality pork and bacon, blah blah. Sticking out of the bag, it actually seems a bit sarcastic, like he's poking fun at Patricia without her realizing it."
"Patricia talks about cocktail wieners over a jazzy snare and hi-hat beat, and Kermit and Harry chime in on the beat with phrases like 'Hot Shots!' and 'Ess-Kay!'"
Patricia pulls out multiple Esskay Products and she and Kermit have a conversation on how everybody loves bacon.
According to Willard Scott's The Joy of Living, Henson and Sam also appeared in a local commercial for Schindlers peanut butter.[15]
Despite episodes from memory, Jeffrey Goodwin also remembers one Esskay commercial from memory, which involves Hank, Sam, and Moldy Hay driving a car by a roadside sign. All that was known about the commercial was that there was a female narrator voice talking to Moldy Hay (hence why he's looking toward the viewer), and the skit ends with them driving to a grocery store. So far, nothing else is known about this commercial.
Gallery
References
Community content is available under
CC-BY-SA
unless otherwise noted.