Check out the Lost Media Wiki's article on Sesame Street "Episode 847"!!!
On February 10, 1976, Sesame Street Episode 847 aired, featuring Margaret Hamilton reprising her role as the Wicked Witch of the West from the classic 1939 film The Wizard of Oz.
The central plot involves the Witch losing her broom while flying over Sesame Street; throughout the episode, she threatens to turn Big Bird into a feather duster, David into a basketball, and electrocute Maria with her broomstick.[1]
Oscar the Grouch is the only one who takes to her, even to the point of having a crush on her. Big Bird eventually warms to the Witch, and is saddened when she leaves (only to drop her broom again).
A large number of complaints sent from parents and children were made regarding the episode, within a relatively short frame of time. Many concerned parents reported that their children were screaming and crying in fear of the Witch.[2]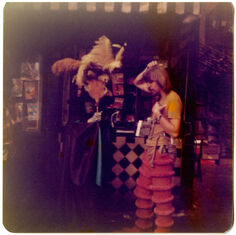 Additional test screenings of the episode were made, with the reactions of the children being a lot more subdued than expected. Some who watched the episode in color weren't frightened at all, but were instead fascinated by her green face. Regardless, the Children's Television Workshop made the decision never to re-air the episode, and it never has since. The episode was officially found on June 18, 2022 by an anonymous reddit user.
There is an ongoing search on Muppet Central Forums.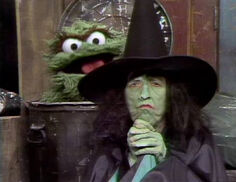 UPDATE 22 Feb 2019: An image from the episode has just been uploaded on Muppet Wiki today by user Radionate and user Oscarfan's comment to it when he re-uploaded the image was "Mamma Mia!". Gavry3 and Notelu asked him where he got the image for the episode from, and all Radionate could say at the moment that the episode hasn't been lost and hopefully someone will share more about it sometime this year.
UPDATE 18 Apr 2019: User Gavry3 went back to the CTW archives and right as he was being told he had 10 minutes left before he had to leave, he hit the jackpot and found an entire folder containing the the memorandum and letters pertaining only to the episode. So, naturally, he took pictures of as many as he could, skipped a few, and took some more, barely skimming through them as presented in a Google Drive folder.
UPDATE 1 Oct 2019: The Museum of the Moving Image in New York City screened the episode on November 24th, 2019 as part of a "Lost and Found" event celebrating Sesame Street's 50th anniversary. The screening would be later accompanied by the unaired episode "Snuffy's Parents Get a Divorce", and a discussion panel with Jim Henson Legacy president Craig Shemin, former Sesame Street head writer Norman Stiles, and Sesame Workshop's Rosemarie Truglio.
UPDATE 25 Nov 2019: It went well.
UPDATE 3 Dec 2019: An anonymous user had recorded footage of the last three street scenes of the episode with a camera pointed at the big screen at MOMI– and uploaded it onto archive.org (URL will not be disclosed due to it now being a dead link). There are many negative reviews on the archive.org page for it that are demanding for the leak to be taken down.
UPDATE 7 Dec 2019: The anonymous user took down his leak after so many negative comments were put against him. Not to mention that he called out Lost Media Wiki for "causing the loss of mass tons of media" as well.
UPDATE 29 Dec 2019: The same video from archive.org (that is, the footage of the last three street scenes of this episode) is now already getting mirrored on YouTube and other sites.
UPDATE 17 Jan 2020: Screenshots for the episode have finally been uploaded on Muppet Wiki by Scarecroe, this time coming from an anonymous trusted source and not coming from the bad quality video leak from the MOMI "Lost and Found" event. Plus, a review of the episode is on Toughpigs.com as their new "Sesame Rewind" review series.[3]
UPDATE 14 May 2020: The footage of Episode 847 that milkyfries103 reposted/mirrored to YouTube also got taken down. It can be assumed that Sesame Workshop filed a copyright strike and took it down. However, many mirrors of the video are still up.

UPDATE 18 Jun 2022: The episode in its entirety was found on the American Archive of Public Broadcasting and uploaded anonymously to Reddit's r/lostmedia subreddit. [4]
Videos
Sources
Inter-wiki links