"Skyoneer2007 changes names" is a YouTube video uploaded by "Skyoneer2007" (now known as "Willy Freebody III") in October 23, 2013. Not much about that video. It was privatized in July 23, 2018.
Original link (goes to message that said "This video is private."): https://www.youtube.com/watch?v=KJsd6ihbW6A
There might be no evidence of that video can be found.
About this video
Unknown due to the fact the Willy Freebody YouTube video is lost.
Updates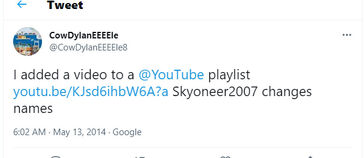 Update 07-08-2021: I've discovered that twitter user "CowDylanEEEEle8" has added the video on to his or her playlists by sharing the twitter.
For other Willy Freebody YouTube videos searches, Check it right here.
Willy Freebody (partially found videos from YouTuber; 2006-2019, 2021)
How to Solve the 8X8 rubik's cube tutorial (Lost 2013 Willy Freebody Video)