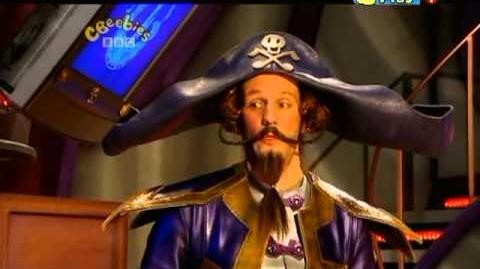 Space Pirates is a British children's television series originally shown on CBeebies. It is a mixture of live action and animation, set aboard a space ship which orbits Earth. It stars Luke Toulson as Captain DJ, and features the voice of Radio 1 newsreader Dominic Byrne as an alien news/weather/travel reporter called Zorst. There are 30 episodes which were first shown from 3 November 2007 until 22 March 2008.
"Music to Jump Around To" was the only full episode of the show available on the Internet, but was then taken down and it is unknown if the episode will be mirrored, and the show never saw an official DVD release, and is not available on CBeebies iPlayer. However, there are 5 full episodes up
on YouTube as of 1 January 2020.
Full Episodes
Music to Drum Along to
Music for Playtime
Music to Paint to
Music that Makes Me Laugh
https://www.youtube.com/watch?v=p2sIwYT8w-4&t=21s
Music to Listen to on a Journey
https://www.youtube.com/watch?v=jqBPV_s9Khg&t=24s
Music to Surprise Me
Music to Listen to with Family
Music to Cheer Me Up
Music To Count To
Music To Splash Around To
Community content is available under
CC-BY-SA
unless otherwise noted.