watch 01:38
The Loop (TV)
Spiderbait are one of Australia's biggest bands, there blend of punk, hardcore, alternative and hard rock have made them legends in Australia and are best known for their cover of black Betty. However in the nineties they released several B-sides, all of them are lost today.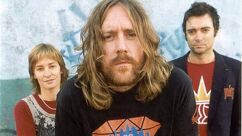 the following songs are considered lost by some spiderbait fans
---(The unfinished Spanish galleon of finely lake era songs)---
Home
We came to see the other band
Alex the seal
Goal (Sennamix)
Purgatory City
Goal (Escobamix)
Detective (Ricecake Mix)
The Sea
Yourself
On Adventure
Sam Gribbles (Mr Tamborine Man Mix)
---(Ivy and the big apples era songs)---
The Road To Urana
Beauregard Bennett
Joyce's Hut (Tropical Mix)
Horschack Army (Bubonic Mix)
Ghoosh (Live)
Macintosharoonie Part One*
Kermit's Legs
Dotted Line
---(Grand slam era songs)---
Shazam (Wave Your Hands In The Air Mix)
Cracker (Endorphin Remix)
Dinnertime (Hardboiled Remix)
Glockenpop (Slow Ectoplasm Remix)
White Trash Superstar (Pound System Remix)
Jellybean Drifter (Whitt Remix)
Buster (Remix)
When You Win The Brownlow (Demo)
Eleven Foot Six (Demo)
Conversation
Dark Fader
Fizzy Drinks
songs from flight of wally funk to now are available on iTunes therefore are not lost. *since the title of the song is Macintosharoonie part one it is unknown if there is a part 2. This does not include tracks that where later put onto a studio album I.E Should have done what my mother always told me
The only solid proof of these B-sides is the Spiderbait Discogs page. considering the facts these songs where very popular during the 90s lots of people may have them. if you do send me an email at hedgehogingrass667@gmail.com
it has also become my mission to find every cd single for these songs
references
http://www.discogs.com/artist/254490-Spiderbait
https://www.google.com.au/imgres?imgurl=http://images.goodfood.com.au/2013/11/14/4923486/spiderbait-729-20131114155812300153-620x349.jpg&imgrefurl=http://www.smh.com.au/entertainment/music/spiderbait-leaves-grunge-behind-with-unorthodox-album-20131114-2xiy5.html&h=349&w=620&tbnid=rxv1gg2wF_pB0M:&tbnh=112&tbnw=199&docid=AfDegN3kJs4lWM&itg=1&usg=__N1IE-qxBFYSj9Mf_CZCXVOgCM6E=
https://en.wikipedia.org/wiki/Spiderbait
thanks for reading my first page
Community content is available under
CC-BY-SA
unless otherwise noted.