Exactly a year after Rocko's Modern Life had ended, Stephen Hillenburg (1961-2018) and several crew members of Rocko's Modern Life begun working on a pilot for SpongeBob SquarePants. The original name for SpongeBob was SpongeBoy and the show was to be called SpongeBoy Ahoy!.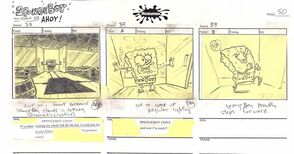 This idea was ultimately scrapped and replaced with SpongeBob SquarePants due to a cleaning product (specifically, a mop) of the same name existing. To avoid copyright infringement, it was reworked.
It was speculated that there was a version of Help Wanted with a different intro sequence and SpongeBob is known as SpongeBoy. The pilot was made on November 16, 1997.
On 2009, the original opening sequence was uploaded on RetroJunk. Also, a rare screenshot that's very hard to come by of what appears to be the original SpongeBob auditioning for a place at the Krusty Krab (Mr. Krabs' famous resturant) was found. Asides that, nothing else was found from the original pilot. Although, on November 24, 2015 the pilot was found, but sadly in it's edited form, when the name was changed to SpongeBob. The pilot was uploaded on Vimeo by the LMW user "Joey!" [1].
The SpongeBob version it's basically identical to the "Help Wanted" segment in the first official SpongeBob episode, except some minor differences including the opening sequence and the credits.
On August 16, 2016, the LWM user NormTendo64 found in the now-removed Nickelodeon Animation 25 year anniversary video a screenshot of the pilot.
On 2018, the pilot was deleted from Vimeo due to copyright, but it was uploaded on archive.org by the user Legoluigi00.
On May 22, 2019, Brenden7158 found a better image showing SpongeBoy with his name badge.
In 2020, the pilot was taken down again from Internet Archive due to copyright, but it is still available via Streamable.