The Mandalorian's Popularity | The Loop
Exactly a year after Rocko's Modern Life had ended, Stephen Hillenburg (1961-2018) and several crew members of Rocko's Modern Life begun working on a pilot for SpongeBob SquarePants. The original name for SpongeBob was SpongeBoy and the show was to be called SpongeBoy Ahoy!.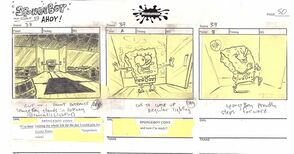 This idea was ultimately scrapped and replaced with SpongeBob SquarePants due to a cleaning product of the same name existing. To avoid copyright infringement, it was reworked.
It is said to be a version of Help Wanted with a different intro sequence and SpongeBob is known as SpongeBoy.
Despite this, the original SpongeBob pilot has yet to surface online. The only evidence of its existence is the original opening sequence found and a rare screenshot that's very hard to come by of what appears to be the original SpongeBob auditioning for a place at the Krusty Krab (Mr. Krabs' famous resturant). Asides that, nothing else has found its way online or on home media.
It is currently unknown if Hillenburg himself or anyone else working on this pilot still has a full copy. The pilot was made on November 16, 1997.
Updates
EDIT 11/24/15: The SpongeBob version of this pilot has been uploaded by LMW user "Joey!" on Vimeo. https://vimeo.com/137892254 The password is AHOY. It's basically identical to the "Help Wanted" segment in the first official SpongeBob episode, except some minor differences including the opening sequence.
EDIT 5/14/16: YouTuber Garfield Cat recorded the end credits of the Vimeo vid, and posted it on YouTube. It is blocked in some countries. You can watch the video here.
EDIT 6/11/16: Garfield Cat terminated his account, making it unwatchable.
EDIT 8/16/16:
YouTuber and LWM user NormTendo64 found out in the now-removed Nickelodeon Animation 25 year anniversary video on The Splat's YouTube channel. He found a screenshot of the pilot. Here is the picture.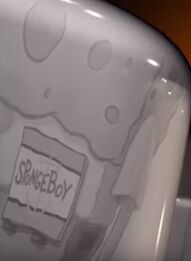 EDIT 7/17/17: The video on Vimeo has been set to private and isn't readily available.
EDIT 8/10/17: Aaron Flores has uploaded an HD Pilot of SB Help Wanted 1997 (16:9) on Youtube You can see it here
EDIT: Viacom has blocked the video making it unwatchable.
EDIT: It's back up.
EDIT 3/17/18: I don't know when this happened, but Aaron Flores got terminated on YouTube.
EDIT 4/23/18: The Vimeo link is saved on Spongebuddy Mania. You can still watch it there.
EDIT 5/24/19: Added better picture of Spongeboy Pilot Picture.
EDIT 7/31/19: Legoluigi00 uploaded the pilot on archive.org (Link: https://archive.org/details/SBPilot1997ForTheLostMediaWikiSD) in 2017 and is still up to this day.
EDIT 12/9/19 : Larrence Clay ( a youtuber) Currently Has The Full Pilot In his possession.
Community content is available under
CC-BY-SA
unless otherwise noted.