Stressed Eric is a British adult animated television series that was produced by Absolutely Productions for the BBC Two television channel in the United Kingdom and Television New Zealand. The series revolves around Eric Feeble, a middle class man who is always stressed because of his family, work, co-workers, etc.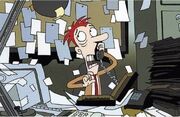 US Version
Stressed Eric was bought and briefly aired by NBC (The First Season ONLY) and adapted for American audiences with the lead characters' voice redubbed and re-worked as an American expatriate with several original lines changed for cultural purposes, a new opening sequence that reflects the changed storyline and cutting scenes for time constraints. Mark Heap who originally played Eric, Was re dubbed over by Simpsons cast member Hank Azaria, who also served as a producer for the dub.
Episodes Online
Out of the 6 Episodes that where produced for the First Season, it's unknown how many were dubbed with Hank, 3 are only available on YouTube, them being...
While...
Being lost or un-dubbed . Due to the TV-PG Rating the show had in the US, Sex is most likely to be un-dubbed due to strong sexual references, however, a clip can be seen in a promo for the show. Tidy was seen to be in a promo on NBC, So it might have been Dubbed.
Community content is available under
CC-BY-SA
unless otherwise noted.