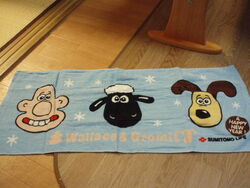 Because of Wallace & Gromit's success and popularity, including in other countries, in Japan they had a deal with Sumitomo Life, an insurance firm in which they gave you free gifts when you took out insurance with them, and with Wallace & Gromit it was assumedly such Wallace & Gromit-related gifts as the one featured on the right. This deal also resulted in a television advert, which was obviously only aired in Japan, where Wallace and Gromit would showcase what Sumitomo Life insures you for.
The advert in question had the two riding on their motorbike with a stunt team of sheep ala "A Close Shave". They hit a tortoise, which bears a striking resemblance to Frank the Tortoise from Creature Comforts (another Aardman/Nick Park creation) and they all fall off but then land again in a vertical line with Wallace and Gromit on top, Shaun at the bottom steering and the tortoise on Wallace's head serving as a helmet.
The ad may have been available for viewing on Sumitomo's official website, but unfortunately the video was not archived in the same website that archived the page and the ad isn't to be found on the website anymore. Beyond that it otherwise hasn't been rereleased or reuploaded onto the internet since its debut, and the only remnant of it out there currently is allegedly a single-second clip used on the Behind the Scenes features of the 2002 Wallace & Gromit's Cracking Contraptions DVD and a picture of the ad used on the same webpage. It is unknown if there is anyone out there from Japan that may have recorded or downloaded this ad. It remains as possibly the only Wallace & Gromit animation piece that hasn't been reaired, rereleased or reuploaded to the general public at all since its initial showing.
UPDATE 10/03/14: More information about the short has been found. According to this resume of Mark Chamberlain (the director of photography on this and many other Aardman adverts), the advert is simply titled Sumitomo "Wallace & Gromit", runs for 15 seconds and was additionally shot on 35mm and directed by Dave Osmand. It also cites its release date as 2000, but production company Bigfoot Productions claims to have done post production on it in 2001, so it can be assumed Chamberlain was referring to when he had worked on it and the ad had only finished production the following year.
Community content is available under
CC-BY-SA
unless otherwise noted.