Doctor Strange in The Multiverse o Madness - The Loop
Play Sound
Check out the Lost Media Wiki's article on Superman's lost original 1933 comic appearance!!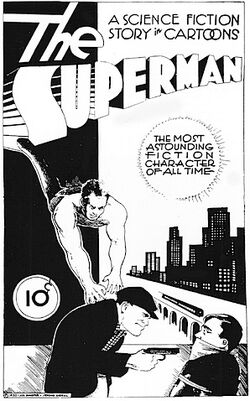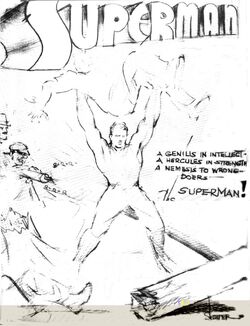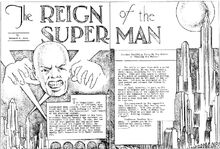 Superman needs no introduction. He remains one of the most recognizable pop culture icons and is considered one of the first "true" superheroes.
Most Superman fans know that his "official" debut was in June 1938 with Action Comics No. 1. What many people don't know is that the Man of Steel had two other known (or, in this case, at least planned) appearances before this issue. One was a depiction of the character as a villain in a short story called The Reign of the Superman, released in January 1933. This short story, though extremely rare in physical form, is readily available online.[1]
Superman's creators, Jerry Siegel and Joe Shuster, started toying around with the idea of making the character a hero instead of the villain. They got in touch with publishing company, Consolidated Book Publishing. The duo worked enthusiastically and hard, even receiving a promising letter for publication. Eventually, though, Consolidated pulled out, leaving Siegel stressed. After trying again with a few other publishing companies that denied them, Shuster threw the entire issue into a fire out of rage and frustration, but Siegel rescued only the cover from the fire. It wouldn't be for another 5 years that the hero would finally see his first publication.
Today, all that survives of this comic is the cover. Superman is seen in an entirely different design. Little is known about its plot, or what other character designs may have looked like. Collectors and historians have contacted multiple sources of whom may hold a copy. It is more than likely, however, that this work is forever lost due to its creators' shame and rage.

Warning: The program will download more of the necessary file because it is a collection and will also need a cbr file reader --> download
The Reign of the Superman (1933) --> download
References
2.The Reign of the Superman (1933)