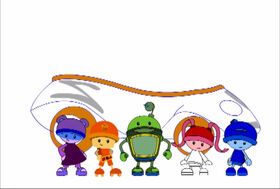 Team Umizoomi is a TV Series for preschoolers created by Jenifer Twomey, Soo Kim, and Michael Smith. It is about three mini-superheroes saving the day with their mighty math powers. Originally, in 2006, the show was picked up for production by Nickelodeon. They came up with a title which was The Umizumiz. In 2008, they completed the pilot. Premiering in 2008, in Noggin, the original idea was about a new animated interactive series for preschoolers about a miniture urban repair squad that solves everyday preschool problems in Metro City with the help of viewers at home. The 6 were, Milli, Geo, Bot, Zig Zag, and the Zipmobile. The orange character was unnamed but still got into the show. The original Milli and Geo were unknown before their debuts, though Milli would've probably have only the measurements talent. The original Geo represents a whistle. Bot made no vast changes but his mouth was green. Zig Zag, was known for patterns and was scrapped for Milli. The unnamed orange character was known for the "Super-shapes!" and was scrapped for Geo. And UmiCar was originally the Zipmobile. This pilot has never been aired on television or has it been uploaded worldwide anywhere. So it's considered as lost.
Links
Community content is available under
CC-BY-SA
unless otherwise noted.