Jurassic World: Dominion Dominates Fandom Wikis - The Loop
Play Sound
DISCLAIMER: This article (or part of it) deals with Violent, Sexual, Profane, and/or Drug-Related Content. Viewer Discretion is Advised.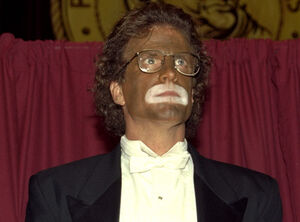 Ted Danson is best known as one of the lead actors from the long-running NBC TV show Cheers. His performance of Sam Malone landed him ten Emmy nominations, of which he won two. Ever since then he has had small roles in other television series and films.
Danson had a few notorious controversies in the early 1990's. He had an affair with actress Whoopi Goldberg which ultimately led to him getting a divorce from his first wife, Randall Dawson. During his relationship with Goldberg, he did a performance during her roast a comedic routine where comedians jokingly take stabs at each other out of admiration. The performance in question took place on October 8, 1993 at the Friars Club Comedy Roast. He appeared in blackface and reportedly used the n-word well over a dozen times. Although his act won Goldberg's affection, many people of color found the performance degrading and offensive. It wasn't until later that Goldberg revealed that she had written most of the racist material. She defended it as a satirical mockery of racism and racist people. Several other prominent African-Americans, such as model Beverly Johnson, possessed the perspicacity to appreciate and defend Goldberg's effort to critique racism at her own roast. But Danson suffered negative publicity and was forced to publicly apologize for it after his affair with Goldberg had run its course.
Many sources claim the performance was video-taped. However, aside from a few snapshots taken by members of the press, nothing of the performance has surfaced online or even on the wide media coverage. It was speculated that Danson's publicists withheld the footage from being leaked out. Not wanting it to damage his career any further than it already had. It's unknown if the tapes were destroyed, if they really do exist most evidence strongly points to their existence, however.
The performance remains a piece of treasure by Danson's fans. He is now ashamed of it, however, which makes a release, official or unofficial, not very likely.